Mumbai-based Crude Area Web Pvt Ltd, which owns and operates Crude Area, a curated e-commerce platform for contemporary graphic art and design, has secured an undisclosed amount in funding from Sidharth Rao and Sudesh Samaria, founders of Webchutney (which offers web design, promotion and marketing services), and two unnamed angel investors based in the US. The funds will be used for product development and fresh hiring.
"We can't disclose the exact investment, but it is enough to execute our plans for a year. We plan to use the funds to hire more people for our sales & marketing team and also to expand our product offerings. We also want to introduce 3D printed products in the market. So a part of the money will be used to produce and sample those in-house before hitting the market," said Nidhi Dewan, co-founder of Crude Area.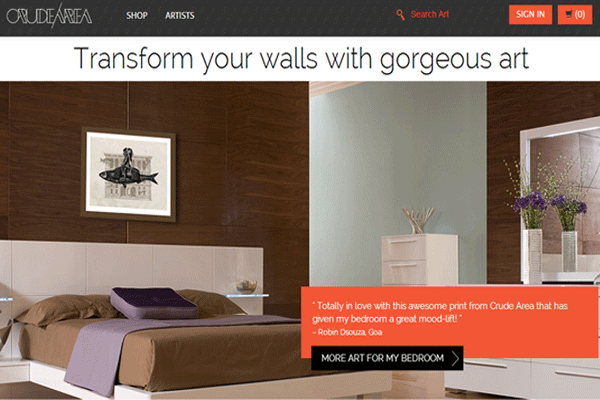 Set up in November 2012 by Shweta Bhandari and Nidhi Dewan, Crude Area curates artworks and designs from around the world. A Delhi University alumnus, Bhandari had earlier worked with Webchutney, GE and American Express. Dewan is an alumnus of University of Southern California and previously worked with NBCUniversal, Frequency Networks Inc. and Alootechie.
How does Crude Area work? 
The company curates and brings international art to the Indian market via its online platform. It offers a wide range of artworks/designs for audiences with varied tastes. For instance, if you like the work of an Australian artist, Crude Area will get in touch with him and invite the person to showcase his works on the site. Artists send high-resolution files of their designs and those are featured on the site for art lovers.
"We also work with interior designers, architects, etc., for unique wall decor solutions. Therefore, we are operational in both consumer and corporate space," explained Bhandari.
At Crude Area, pricing starts at Rs 1,750 and can go up to Rs 9,600. The site currently offers art prints, framed and canvas prints in four standard sizes and claims to have more than 50 artists on its platform. The startup pays a commission to each artist, which is approximately 30 per cent of the maximum retail price of the product. For corporate customers, the firm provides customised sizes as per their requirements.
"We want to lead the art & design market in India and introduce functional lifestyle products for consumers including working professionals, women and kids. We also want to make our products available in tier II and tier III cities and towns across India where there is a dearth of choice and availability of good lifestyle products with international appeal," concluded Dewan.
(Edited by Sanghamitra Mandal)
---