We are back again with the next edition of App Tracker and for this week, we bring to you a comparison of the recently launched Android app of daily deal site Groupon India (its iOS app has been available in the market for a while), with the Android counterpart of homegrown player MyDala. For the comparison, we will look at the app's UX, features, as well as the transaction process.
For the uninitiated, Groupon India is the Indian arm of Groupon.com Inc, the world's largest online group-buying site. It acquired its India unit SoSasta.com in early 2011 and re-christened it as Crazeal.com later in the year. In October 2012, the company rebranded its India operations again and moved to a new domain called Groupon.co.in.
Groupon v/s MyDala
The Groupon app asks for the email id when the user opens the app, post which the app redirects him/her to the featured deals section. In all it has three sections—getaways, featured and goods (same as the portal). On the other hand, MyDala's app doesn't ask for an email registration, and users can directly browse the deals. In terms of categories, MyDala offers more specific categories on its app like restaurants, health & beauty and activities & hobbies. It also offers varied value-added features like mood- and location-based deals. There is a separate section for 'lucky draw' deals on MyDala app which users can participate in. There is another section for free deals as well, where users can directly make appointments with merchants.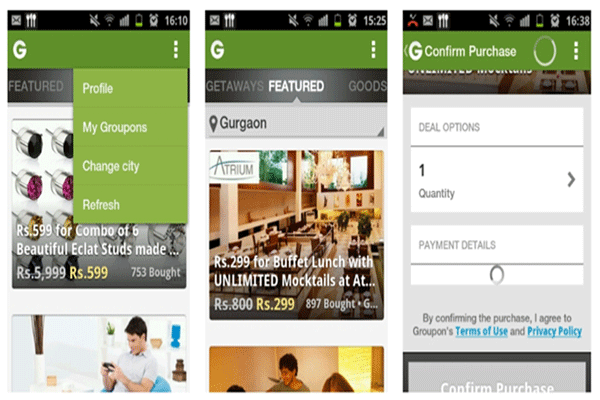 Also, on the Groupon app, while users can browse deals without signing in, for purchasing a deal you need to sign in via your Groupon or Facebook account. In comparison, MyDala app lets users purchase deals even if they are not signed. On Groupon, users can change the preferred city by clicking on the icon on the top right corner of the screen. On opening any deal, users can see the details and the fine print of the deal. Users can share the deal on social media sites, or via phone and email. MyDala also offers a tab for the same, with which users can change the city, phone number (that automatically syncs from operator), share on social media, browse through different categories, get contact details of merchants, and more.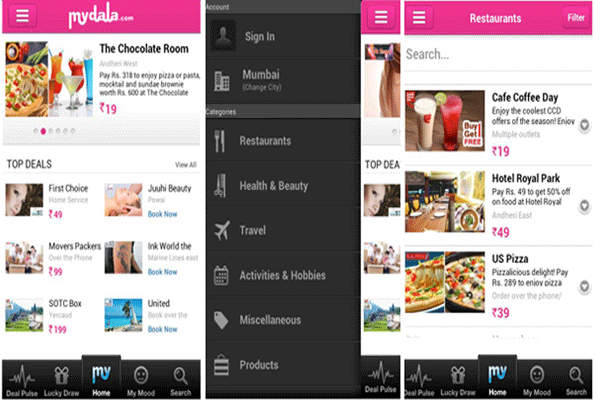 Overall, Groupon is a simple clutter-free app with a seamless and intuitive UI. Upon signing in from your account, you can check the past deals and change/update your account details. In comparison, MyDala looks very cluttered and confusing and while users don't need to sign in, it does bombard the user with a lot of offerings at one go. In terms of payment options, Groupon only offers credit/debit card options (a tab indicates 'add payment method' option but it seems to be inactive as of now). In MyDala app, more options are available like credit card, debit card, OxiCash and in some deals users can pay from their Vodafone account as well (My Dala has a tie-up with Vodafone).
Takeaway: The Groupon app is good and does its job well. In fact, it's easier to navigate compared with the portal; however, there should definitely be more payment options. In the MyDala app, the overall experience can get a little confusing though it offers more services and features.
TC rating:
Groupon: 3.5/5 MyDala: 3/5
While MyDala's app does give the one from Groupon a run for its money, it needs to be a lot more refined. So we are going to give Groupon's Android app the thumbs up. That's all for this week's App Tracker, but if you (startups/developers) want your apps featured on Techcircle.in in the future, please write in to us with a brief descriptor of your app at editorial@vccircle.com. For readers, if you find an interesting app out there and want it reviewed by us, you can send us a 'tip' at the above mentioned email id. Till next time, keep tracking.
(Edited by Joby Puthuparampil Johnson)
---