Now GupShup Messenger supports 9 regional languages

Mobile messaging app GupShup Messenger is now supporting nine regional languages of India across its platforms. These include Hindi, Bengali, Gujarati, Kannada, Malayalam, Marathi, Punjabi, Tamil and Telugu.
"Supporting multiple languages is the most important aspect of localisation. Therefore, it is a prerequisite for increasing the number of potential users," said Milind Agarwal, co-founder and chief community officer of GupShup. Earlier, the app only supported English.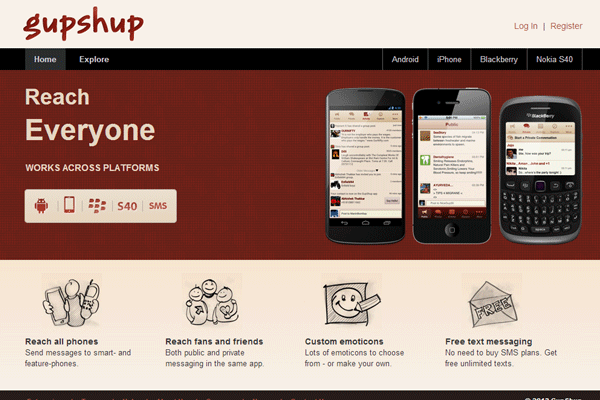 The service, formerly known as SMS Gupshup, rebranded to GupShup earlier this year and launched its messenger app. The app was launched across all major platforms including Android, iOS, BlackBerry and Nokia S40. However, basic Java feature phone users can also use the service by sending/receiving messages via the GupShup Messenger like a normal SMS.
The company claims to have around 65 million users till date and they are interacting via 4.5 million SMS communities or groups. The promoters also claim that users are sending around 2.1 billion messages per month via the app.
Webaroo Inc., the company behind GupShup, was co-founded by Beerud Shah (CEO), Viswanath Ramachandran (CTO), Chirag Jain and Agarwal back in 2007. It had earlier (2011) raised Series E round of funding, led by the US-based venture capital firm Tenaya Capital. Existing investors Lloyd George, New Horizons, Charles River Ventures, Helion Ventures and Globespan Capital Partners also  participated in that round.

Instant messaging is a highly competitive market as of now, with various apps vying for the attention of Indian customers. Although the top slot is firmly occupied by the global leader WhatsApp, Chinese internet major Tencent's WeChat has also shifted its focus to the emerging markets and is betting big on India. WeChat is gaining traction as it enables users to chat in Hindi, along with 17 other languages. Then there are homegrown instant messaging apps like Hike (from Bharti SoftBank) and Talk.to (from Directi Group), and the latest entrant in this space is the Japanese IM app Line.
(Edited by Sanghamitra Mandal)
---