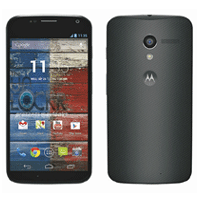 Motorola Mobility, the company acquired by Google for $12.5 billion in May 2012, has unveiled its flagship smartphone called Moto X. The device, which comes with the tagline 'Design Yours', runs on the latest Android 4.2.2 Jelly Bean operating system, along with the Motorola X8 Mobile Computing System. But instead of going after market leaders like Samsung and Apple, Motorola has played it safe and chosen to appeal to the 'personalised ownership want' of smartphone customers.
"People want choice. The choice to design their own phones. Now Moto X lets you choose the front, the back, the accents, the wallpaper, the memory and even a short message. It's all your call. But it's also designed to sip battery, not chug it, so it will go all day and into the night. Plus, no one has ever assembled a smartphone in the US before. We think it's about time," reads a message on the Motorola site.
Here is a look at the device specifications.
This smartphone has a 4.7 inch HD AMOLED touchscreen display (720x1280 pixels resolution) and runs on the latest Android 4.2.2 (Jelly Bean) operating system. It is powered by a 1.7 GHz dual-core Qualcomm MSM8960Pro Snapdragon processor and has 2 GB RAM. As for internal memory, users can choose from 16 GB and 32 GB models. In addition, the company is also providing 50 GB of Google Drive storage free of cost for two years.
Moto X has a 10 mega pixel autofocus rear camera with LED Flash that can record full high definition videos (1080p) at 30 frames per second and a 2 MP front-facing camera that can also record full HD videos. Having a 10 MP camera in place is an interesting option as most players usually offer either 8 or 12 MP cameras. What's more, there is provision for automatically launching its 'Quick Capture' camera. You can touch anywhere on the screen and the camera captures the shot you want. Its high quality sensor can capture the darkest scenes or stop motion blur in bright light. You'll see the difference in every shot.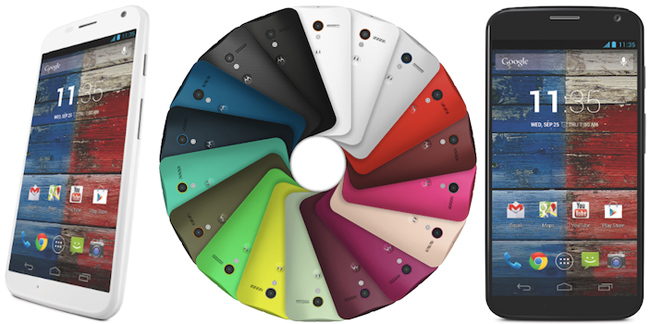 On the connectivity front, the device has Bluetooth 4.0, Wi-Fi (with Wi-Fi hotspot), Near Field Communication, 3G and 4G (depending on the region). It also comes with a micro USB port. The smartphone has a 2,200 mAh battery and comes with GPS (with A-GPS support).
Moto X measures 129.3mm x 65.3mm x 10.4mm and weighs 130 gm. It will be available in white and black colours (for the front panel). Additional features include Touchless Control (allows users to check the weather, get directions, among others) and Active Display (keeps the important information you need at your fingertips by displaying it on the screen).
Detailed customisation
Through the company's online studio Moto Maker, users can customise their Moto X smartphones and effectively personalise those. One can choose the colour of the smartphone, too. For the front panel, you can choose from white and black while 18 different colour options are there for the back panel (that's even more than what Nokia Lumia offers).
One can also decide on details like wallpapers, signature (engraving a short message on the device), accessories and accent colour, among others. The company claims to offer over 2,000 possible combinations, with more to come. Motorola has also partnered with brands like SOL Republic to create an ecosystem of accessories for Moto X, called 'M4DE Motorola'. These will include headphones, speakers, cases, docks and more.
While some of the customisation options are not unique (choice of internal memory and engraving is already offered by Apple), a few are actually neat. Here is a video showcasing the various customisation options available in the smartphone.
Moto X will be available in the US, Canada and Latin America by the end of this month or early next month for a starting price of $199 (Rs 12,000) with a new two-year agreement.
If you will remember, when Amazon launched Kindle, everyone was expecting an iPad killer. But the company targeted a completely different segment and its tablets ended up becoming a huge success among consumers. We feel that with Moto X, Motorola has tried to do something similar. While this smartphone is not good enough to take on the upcoming iPhone or the Galaxy S4, it can create a niche for itself within the smartphone market.
Also, all customisation options are only available in the US (and adjoining areas) as of now, since every Moto X sold in the country is being assembled in the US. It will be interesting to see whether the company brings the same customisation features to India (whenever it decides to launch the smartphone here). After all, without those additional features, Moto X is nothing to write home about. Another crucial factor that can make or break the sales of the smartphone in India is it's pricing. We feel it should be in the under-Rs 30,000 range to truly entice customers.
(Edited by Sanghamitra Mandal)
---