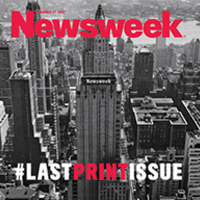 IBT Media, a digital-only media company, said on Saturday it was acquiring Newsweek from IAC/InterActive Corp, which took over the venerable title in 2010, stopped its print edition and relaunched it as a digital-only magazine earlier this year.
IBT Media said in a statement the deal did not include the online news and commentary site The Daily Beast, which IAC had acquired along with Newsweek.
It did not disclose the terms of the deal, but said the transaction was expected to close in the coming days, after which IAC would continue to operate the property for a transition period of up to 60 days.
"We are thrilled to welcome this iconic brand and global news property into our portfolio. We believe in the Newsweek brand and look forward to growing it, fully transformed to the digital age," IBT Media Chief Executive Etienne Uzac said in the statement.
Newsweek will operate as a wholly owned subsidiary of IBT Media, which was founded in 2006 and has a portfolio of 10 international online news properties including International Business Times, Medical Daily, Latin Times and iDigitalTimes.
In an interview with Bloomberg TV earlier this year, IAC Chairman Barry Diller called the purchase of Newsweek a mistake.
---