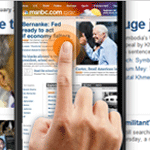 Internet subscribers in India grew to 164.81 million as of March 31, 2013, with as many as seven out of eight net users in the country accessing the services via their mobile phones, according to telecom regulator TRAI. The total number of mobile internet subscribers stood at 143.2 million at the end of the last fiscal.
The number of broadband subscribers increased to 15.05 million as of March 31, 2013, from 14.98 million as of December 31, 2012. However, narrow-band subscriptions (excluding those who accessed the internet through mobile devices) in the same period declined to 6.56 million from 6.59 million in the previous quarter.
The TRAI data also showed that the number of non-mobile internet subscribers in the quarter ended March 31, 2013, grew to 21.61 million from 21.57 million, registering a quarterly growth rate of 0.16 per cent.
As per the data, Uttar Pradesh, with 14.85 million subscribers, has the maximum number of mobile internet connections, followed by Maharashtra (including Goa) with 12.64 million and Andhra Pradesh with 10.32 million connections, as of March-end this year. This is partly explained by the population of the states and the subsequent mobile internet usage.
Mobile subscription As of March 2013, India's total mobile subscriber base amounted to 867.80 million. It also means one in six mobile subscribers accesses the internet on the go.
During the quarter ended March 31, 2013, India added 3.08 million subscribers including CDMA and GSM subscribers.
Bharti Airtel continued to be the leading mobile operator with 188.20 million subscribers in the quarter ended March 31, 2013, followed by Vodafone (152.35 million) and Reliance Communications (122.97 million), according to TRAI. Idea Cellular, with 121.61 million subscribers, and BSNL (101.21 million) bagged the third and the fourth spot, respectively.
In terms of net additions, Idea (7.66 million) added the highest number of subscribers, followed by Airtel (6.29 million). During the quarter, Vodafone added 4.88 million, closely followed by Reliance (4.43 million). However, state-owned BSNL added only 0.69 million subscribers during the period.
At the end of March 2013, there were 794.03 million GSM subscribers as against 786.98 million at the quarter ending December 2012, showing 0.89 per cent growth.
However, the number of CDMA subscribers declined in the quarter from 77.74 million to 73.78 million. Reliance, with 38.69 million subscribers, continues to be the largest CDMA mobile operator. In terms of net additions during the quarter, all service providers recorded decline in subscriber base except Reliance.
(Edited by Sanghamitra Mandal)
---