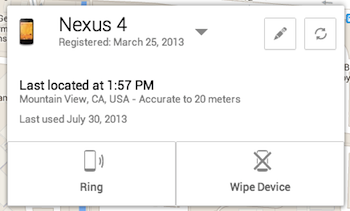 Search giant Google has now made its Android device tracking service available to customers after announcing the same earlier this month. The service, called Android Device Manager, enables users to remotely locate and factory reset their Android mobile phones or tablets if they lose them. Apple already offers a similar service called Find My iPhone that enables users to locate their lost iOS or Mac devices. Here is a look at what's on offer from Google.
For using this service, you will have to sign in to your Google account on android.com/devicemanager (or sign in to your 'my devices' page if you are using a Google Apps account), post which all devices associated with that account receive a notification to enable the service (if it is turned off). Once switched on, one can remotely locate the lost device and find its approximate location on Google Maps. For devices running Android 4.1 and higher, location access must also be enabled.
When the device is located, its approximate location is indicated by a blue circle on the map. The device manager also displays the name of the place where the device is located, the time when it was located, and the time when it was last used. An option of 'ring' is also provided, making the device 'ring' at full volume for five minutes, even if it is set to silent or vibrate. Apart from finding the device location, users can also remotely erase all data stored on the device.
Note that if a tablet has multiple users, only the tablet owner can manage the settings for the Android Device Manager. Also, the service doesn't gather all location history or do location reporting. Your device's approximate location is requested when you first sign in and this location data will be deleted when you sign out of the device manager.
Devices that are offline or powered off
If your device is offline (not connected to an active internet connection), the Android Device Manager won't be able to get it ringing or erase data unless there's a mobile data or Wi-Fi connection. And the service won't work at all for devices that are powered off. In both these cases, users can select the 'erase device' option in advance and the data on the devices will be deleted when they are back online.
While Apple already offers all these options as part of Find My iPhone, it also allows users to lock their iOS devices or Mac computers.
Last month, Google delved deep into consumer hardware and software by launching the next-generation Nexus 7 tablet and Chromecast – a TV dongle that enables one to connect the TV screen with a smartphone, tablet or laptop for media streaming. The company also released an upgraded Jelly Bean operating system called Android 4.3 that comes with several new features such as restricted profiles, Bluetooth Smart support and more. You can read about both here and here.
(Edited by Sanghamitra Mandal)
---