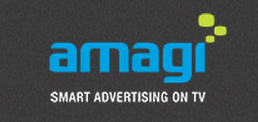 Amagi Media Labs Pvt Ltd, a Bangalore-based technology and media startup that facilitates geographic targeting of television advertisements, claims to have more than doubled its advertiser base. The company had 600 plus advertisers on 15 TV channels, and was reaching more than 150 million viewers as of July 31, 2012. It now has more than 1,500 advertisers on 18 TV channels and its reach has increased to over 200 million TV viewers, according to Amagi co-founder Srinivasan KA.
The company was also planning to make a foray into in Europe and Asia-Pacific markets in the third quarter of 2012, and has now gone live with two channels in Singapore and has also signed up a customer in Europe. Instead of replicating the same business model overseas, Amagi is leveraging its technology and licensing it to a few international broadcasters for their markets. The company is also in advanced discussions with more broadcasters for the same.
Last month, the company partnered with Horse & Country TV, an equestrian sports and lifestyle network that broadcasts in the UK, Ireland, Netherlands, Sweden and Malta, to deliver its signals to cable, satellite and Internet Protocol Television (IPTV) operators. Horse & Country TV will leverage Amagi's platform to deliver localised channel feeds to current and future markets where the channel is distributed. Maa Television Network, India's leading Telugu-language television network, has also been using Amagi's platform for offering its 'Maa TV' and 'Maa Movies' channels in Singapore since April 2013. Closer home, the company recently roped in Zee Media as a broadcast partner and in turn added Zee News and Zee Business channels to its channel roster.
The startup was founded by Subramanian, Srinivasan KA and Srividhya Srinivasan in February 2008. Prior to Amagi, they had also co-founded another technology company, Impulsesoft Pvt Ltd., a Bluetooth audio solutions provider. Impulsesoft was later acquired by SiRF, a NASDAQ-listed semiconductor firm based in the US. After the acquisition, the trio held key positions at SiRF, before ushering in Amagi. Headquartered in Bangalore, the company has over 150 employees in more than 20 cities, including Delhi, Mumbai, Pune and Kolkata.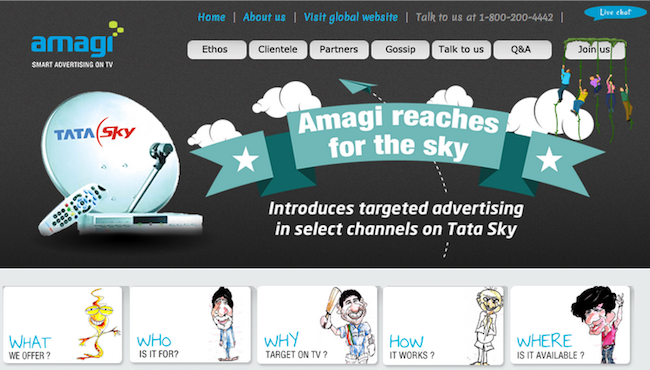 It facilitates geographic targeting of television advertisements. Simply put, if viewers in Mumbai and Delhi are watching the same TV channel, they will still see different ads, depending on their geographical location. For example, if it is a Magicbricks.com ad, the Mumbai viewer will see the ad for properties in Mumbai, while the Delhi guy will see the same ad for properties in Delhi, because of the technology developed by the company.
Fundraising and investments
In August 2011, Amagi raised Rs 25 crore from the Nadathur Group, an investment firm founded by Infosys' co-founder NS Raghavan, taking its total fund-raising to Rs 37 crore. Nadathur had invested in all rounds of fund-raising for Amagi.
The company followed this up by raising Rs 31.25 crore ($5.3 million) in funding from Mayfield Fund, a global venture capital firm with $2.7 billion under management, in June this year. Existing investor Nadathur Group also participated in the round and as part of the funding, Vikram Godse from Mayfield India Advisors had joined the board of the company.
The funds are primarily being deployed in research and development and expanding the company's presence in India as well as international markets.
How is it faring?
In July 2012, the company had shared a number of data points with Techcircle.in. We asked Srinivasan KA to revisit them and tell us how the company is faring as of now. Here is what he shared:
The company was covering 40 cities and had also started covering states like Maharashtra, Karnataka, Punjab and Orissa. It is now covering over 105 cities and has also extended its coverage across Gujarat, Bihar, Jharkhand, West Bengal, Madhya Pradesh and Chhattisgarh.
The company has also added a 'Cloudport platform' as a new product for technology licensing to broadcasters. The cloud platform enables international TV networks to deliver localised feeds across geographies and reach out to new geographies by replacing their existing expensive satellite feeds. The platform is designed as a full-featured alternative to traditional channel play-out options (like satellite or fiber) and TV networks can deliver feeds with rich channel branding, diverse language versions and subtitles using Cloudport.
"It can incorporate local advertising and local programme insertion, and will shortly also allow for the insertion of live programming. Unlike earlier iterations of remote play-out technologies, the platform allows for full monitoring of programme play-out and health of the play-out servers at the headends," said Srinivasan KA. The company is also building a technology that will take targeted advertising to the next level—individual targeting where two neighbours can be shown different ads on the same channels, according to their TV-viewing patterns.
In terms of competition, Rediff had in 2010 acquired a company called Vubites, a local TV advertising firm founded by Rediff chairman and CEO Ajit Balakrishnan in his individual capacity. Rediff entered the local TV-advertisement market post this acquisition.
(Edited by Joby Puthuparampil Johnson)
---