A group of hackers from Pakistan hacked three Indian websites, including MTNL Mumbai, Pune Traffic Police and Janwani, a social initiative of Maharashtra Chamber of Commerce and Industries & Agriculture, on the eve of India's 67th Independence Day. The group, which calls themselves Napsters cReW, displayed a message on the hacked sites that read 'Mr Creepy was here. Happy Independence Day Pakistan'.
The hacked sites also carried a picture of a young Pakistani posing with an inappropriate hand gesture and face painted with the colour of Pakistan's national flag, with Indian soldiers holding the tricolour standing in the background. At the time of writing this post, while the Pune Traffic Police site and Janwani sites were up and running, the MTNL site was still not functional.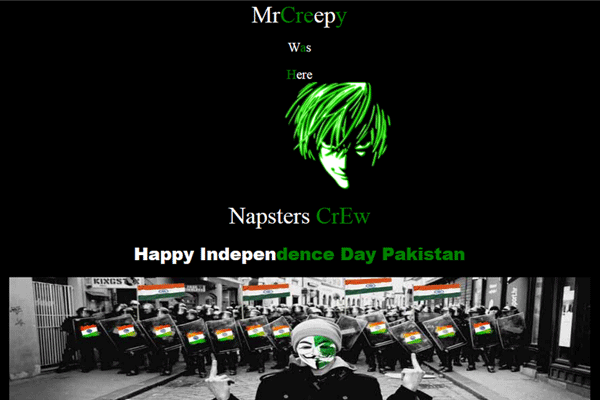 The Napsters Crew also operate a Facebook profile called 'CreepAt Localhost' where they have put up a message that reads, "Lol, just rooted MTNL server, feeling excited". In another Facebook message, the group said, "I told you, I am back and unstoppable…"
In mid-July this year, Stockholm-based True Software Scandinavia AB, which owns and operates the world's largest collaborative phone directory app Truecaller, was hacked by Syrian Electronic Army (SEA) hackers. Truecaller has around 20 million users worldwide that also includes over a 1 million users from India.
Last September, a Turkish hackers group called 'Turkish Ajan Hacker Group' hacked the Indian website of leading pizza company Domino's. In August 2012, a group called Anonymous hacked the official website of Uttar Pradesh's ruling party Samajwadi Party, along with a number of other government-related sites, and tweeted about the same.
(Edited by Joby Puthuparampil Johnson)
---