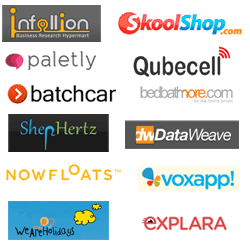 Early-stage VC fund Blume Ventures has announced the names of 12 startups it has invested in, during the first half of this calendar year (January-June 2013).
The new investee companies are Infollion, Paletly, Voxapp and NowFloats in which Blume was the lead investor. The fund made syndicate investments in three more firms. However, the funding details are not available.
The details of the investees are as follows
Infollion: Infollion is a web service to bring together the stakeholders of the research industry—i.e., the buyers and sellers of research services or products on the same platform.
Location: Delhi NCR
Paletly: It is a colour theme-focused e-commerce website for females which allows them to discover, share and buy apparel and other accessories created around colour palettes.
Location: Mumbai
Co-investors: Kae Capital, Mumbai Angels, individual angels
Voxapp: It provides marketers and research companies a platform to get consumer insights from mobile users across smartphones and feature phones. Voxapp lets you create surveys, select audience, and publish the survey to its demographically representative mobile panel, and get statistically significant, quality responses in real time.
Location: Delhi NCR
Co-investors: Palaash Ventures, individual angels
NowFloats: It is a location-based mobile service which looks to provide relevant and contextual information to users based on their current location and time.
Location: Hyderabad
Co-investors: Mumbai Angels, individual angels
Other lead investments
SkoolShop: It aims to help parents and children get access to the best educational products in a convenient manner, so that they need not go to different places to shop for all educational products. One needs to log into SkoolShop, choose from the products and pay online. The products will be delivered at your door-step.
Location: Mumbai
BedBathMore: It is an e-commerce portal for the home furnishing and lifestyle segment.
Location: Mumbai
Other syndicate investments
Explara: Erstwhile Ayojak.com, Explara is a platform for event ticketing and discovery.
Location: Pune.
Co investors: Harvard Business Alumni Angels (India Chapter)
Batchcar: Formerly SharedCab.com, Batchcar is a provider of shared taxi service.
Location: Mumbai
Co-investors: Kae Capital, individual investors
Shephertz: It provides software development kits (SDKs) for app developers who don't need to worry about OS installations, patches, security, firewalls, scalability, high availability and any server side code, be it technical or business logic. They can focus on their UI and client-side logic, and leave the cloud and data management to its App42 cloud platform. Its unified approach to cloud management eases the process of moving or porting from one access channel—i.e., mobile, web, social and TV—to another.
Location: Delhi NCR
Co-investors: Kae Capital, Mumbai Angels, individual angels
Qubecell: It is a pure-play mobile billing aggregator. As a mobile payment solutions provider, it aims to monetise the growing mobile internet traffic, enabled by social gaming and mobile services, through carrier billing.
Location: Mumbai
Co-investors: Kae Capital, Mumbai Angels, international angels
WeAreHolidays: A holiday planning service, WeAreHolidays is working on an engaging online platform to help people get inspired, research, plan, book and share their holidays.
Location: Delhi NCR
Co-investors: Mumbai Angels, GSF Accelerator
DataWeave: It provides actionable data by aggregating, parsing, organising and visualising millions of data points from the web. It helps you discover, monitor, and analyse huge amounts of data.
Location: Bangalore
Co-investors: 5ideas, Rajan Anandan, individual angels
(Edited by Joby Puthuparampil Johnson)
---