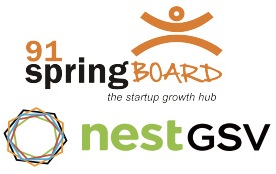 Delhi-based startup incubator 91springboard has partnered with nestGSV Inc., a US-based startup accelerator to incubate startups in India and the US. The accelerator has also set up an office in Silicon Valley for the same. As part of the partnership, Rick Rasmussen, responsible for international business development at nestGSV, has joined the advisory board of 91springboard.
The partnership will enable 91springboard's portfolio companies to tap into the ecosystem as well as gain access to investors in the Valley, while nestGSV's portfolio companies can leverage 91springboard's facilities for exploring/entering the Indian market. As part of the partnership, nestGSV will also have the opportunity to co-invest in 91springboard syndicated deals, providing funding to enable growth for early stage technology startups.
Pranay Gupta, partner, 91springboard, said, "While capital is one part of the puzzle, we are even more excited about the connections that nestGSV's team have. This will go a long way in helping Indian startups expand in the Valley."
Apart from co-funding the startups, the accelerators will also offer co-mentoring and organise joint programmes and events.
"91springboard's philosophy is similar to that of us and hence we thought they would be the ideal partners for us in India. This tie-up will expand our international outreach and bring Indian startups to our Redwood City campus and export the nestGSV brand globally," said Rasmussen.
91springBoard was started by a team of eight 'on-site entrepreneurs' earlier this year. This includes Pranay Gupta (who recently quit the accelerator at IIM Ahmedabad's Centre for Innovation Incubation and Entrepreneurship), Anand Vemuri (associated with US-based medical device start-up Caldera Medical), Varun Chawla (founder of myguesthouse.com which was acquired by MakeMyTrip), Priyanka Sharma (entrepreneur-in-residence at YouWeb Incubator in California) and Girish Khera (founder of Scientific Animations).
Others who are part of the top team include Pushpendra Thakur, Apurv Agrawal (founder of ngoFuel.org ) and MS (Kuki) Chawla, who has created four ventures to date. Apart from offering a co-working space (it has taken a 10,000 sq ft space in South Delhi), the startup also provides a funding opportunity to startups. 91springboard already provides co-working space to 41 startups, which works on a monthly rental basis. "At 91springboard, startups can just come and opt for co-working. There is no need to give equity for the same," said Gupta.
One of the startups, Acamor, a travel portal offering offbeat package tours, has already secured an undisclosed amount of funding from 91SpringBoard. The incubator is looking to invest in 10-15 startups per year and will take stakes of up to 35 per cent in such firms. It is also planning to raise an undisclosed amount, which would be used for funding startups. You can read a detailed spread on the incubator here.
(Edited by Joby Puthuparampil Johnson)
---