We are back with the App Tracker. This time we have picked two latest games on the block. Launched recently by TinyMogul, BSB's gaming venture, the two games Song Quest and Shiva are only available (for free) on Google Play Store for now. Both the games are extremely localised in their concepts. While Song Quest is a song trivia quiz game that caters to music-related questions from Hindi movies, Tamil movies and singers; Shiva is a running game with the main character taking form of the Indian mythological god Shiva.
We have reviewed both the games on the basis of UX, concept and how addictive they can be and come up with the TC rating.
Shiva
On the surface it looks like just another running game like Temple Run or Subway Surfer but the developers have truly made an effort to distinguish the game. To begin with, the game is sideways oriented unlike the ones mentioned and thus it gives a full horizontal view of the game. Players have to collect orbs (currency to buy power boosts, etc) and kill the enemies. The graphics are pretty awesome and the music is very cool too. Both of these factors add a quirky newness to the experience. There are the usual power ups like the one called instant revival wherein the user can instantly revive if he/she is dying by purchasing it for a certain number of orbs (the number of orbs keeps increasing every time you use this power up).
The power up we found interesting was time revival, wherein the user can tap and hold the time revival icon and can go back in the game to any spot he/she chooses to if they are dying or losing. There are boosts to be purchased wherein one can buy armour for Shiva, new avatar, weapons, upgrades, etc. In comparison with the other games in this genre, Shiva is a bit complex but then it calls for serious gaming. It can take four-five attempts to get hooked to this one but once the user is fully on board, he/she will definitely want to play on. Rs 50 gets you 10,000 orbs, Rs 100 gets you 20,000 and so on.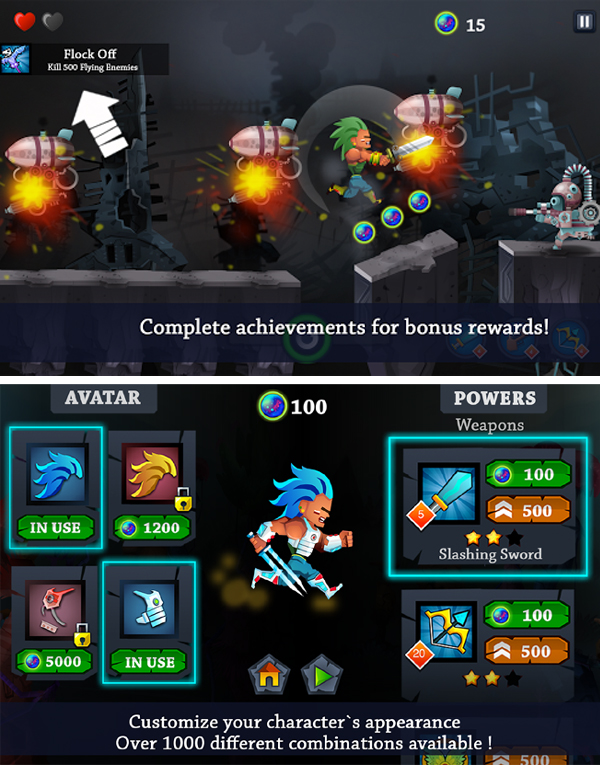 Takeaway: It's a pretty cool game and a decent attempt by the newbie, TinyMogul. One thing though: while playing, the game itself switches stages (background, layout, etc) after a few minutes, which is disorienting sometimes. Player should be given an option as to which stage they want to play in or one stage should complete before moving on to the next one. TC rating: 3.8/5
Song Quest
This is totally a novel concept. A KBC (Kaun Banega Crorepati) style quiz with multiple choice answers and lifelines but with a twist. There is no question that comes up on the screen, instead a song plays and the player has to either guess the actor, movie, song or music director. The song is running on a 10-second timer. Players earn coins on the quizzes they play and in turn can unlock more albums or buy them with those coins. There are many genres like Bollywood, Tollywood, 2000s hits, English music, dance hits and more. The lifelines available are 50:50 (eliminates two wrong answers), x2 (lets you answer the same question twice) and freeze time (freezes timer for a few seconds). These lifelines can also be purchased via the coins earned.
It has both single player and multi player options and players can challenge their friends or other active players that the game itself lists. Users can either log in the game via Facebook or play as a guest too. One downside to the game is that it requires an active data connection to play, since it doesn't function if data is off or unavailable.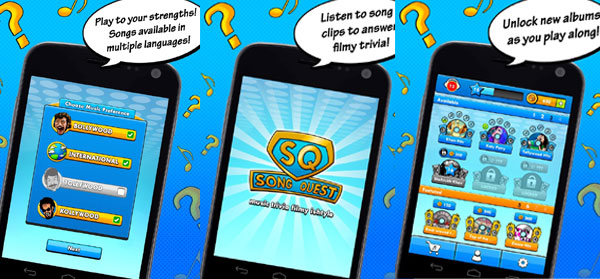 Takeaway: It's a new concept and will click with the music lovers but the game should be made available to play offline as well. The data connection factor could prove to be a dampener for an otherwise fun game.
TC rating: 3.5/5
Both the games are interesting and have managed to hold our attention without us getting bored or distracted. That's all for this week's App Tracker, but if you (startups/developers) want your apps featured on Techcircle.in in the future, please write in to us with a brief description of your app at editorial@vccircle.com. For readers, if you find an interesting app out there and want it reviewed by us, you can send us a 'tip' at the above mentioned email id. Till next time, keep tracking.
(Edited by Joby Puthuparampil Johnson)
---