How Yatra could have avoided its site going down: A domain registrar's perspective @ BigRock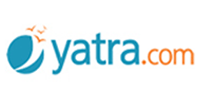 Recently Yatra.com, one of the leading online travel agents (OTAs) in India, was left red-faced when its site went down because the company had forgotten to renew its domain name. The glitch was spotted by customers when they tried visiting the site, but were redirected to a domain parking page.
For those who don't already know, domain parking is the registration of an internet domain name without using it for services such as e-mail or website, i.e., without placing any content under the domain. This may be done to reserve the domain name for future development, to protect against the possibility of cybersquatting, among others.
Well, curious people as we are, we decided to do a little investigation of our own to find out what went wrong with Yatra, and how it could have been avoided in the first place. To begin with, we searched for the domain registrar with whom Yatra.com is registered—it was US-based Network Solutions, LLC. Then we looked up the administrative contact provided by Yatra for its domain name—it turned out to be Manish Amin, the company's co-founder and chief information officer (CIO).
The domain name was first registered on August 9, 2000 and updated on August 13, 2013 (around the same time as the goof up). The company has now registered it up to August 09, 2022, probably to avoid a repeat performance. We asked an industry source about whom to blame for the Yatra mishap, and he said that unless the registrar's payment system was not working or the transaction failed to process, it would be the registrant's fault.
Simply because the ownership of the domain name lies with the registrant and it is its responsibility to ensure its is working with the registrar for renewal of the domain name. A registrar deals with thousands of domain names and hence cannot know whether a particular company wants to renew the name or not.
We also contacted Shashank Mehrotra, general manager and business head at BigRock.com, an Internet Corporation for Assigned Names and Numbers (ICANN) accredited domain registration and web hosting company. Here is what we found out. Note that while the 'Yatra.com' domain name is not registered with BigRock, the company does manage a number of other domains for the parent company Yatra Online Pvt Ltd.
Do companies often face similar problems in India? Or was the Yatra fiasco a rare event?
I think this is definitely rare; we are hearing about it because of the high-profile company that was involved in it. Also while it's fairly common for domain names to not be renewed (over 30 per cent of the domain names are not renewed after the first year), it mostly happens in cases where people don't want them anymore, certainly not for successful online businesses that own valuable domain names.
Don't domain registrars send reminders or email notifications when the domain name nears expiry to avoid this?
Every ICANN-accredited domain registrar is required to have a set of reminders that they need to send out to the registrants of the domain names. ICANN in fact mandates that at least three reminders should be sent—the first one 30 days before the expiry of the domain name, the second a week before and the third within five days of the expiry. All registrars have to comply with these guidelines, and while I am not saying it has never happened that a registrar didn't send reminders, it will be unusual for a registrar to violate ICANN's guidelines.
These reminders include email notifications and in some cases also telephonic calls and SMSes.
Isn't an auto-renewal service available?
Yes there is, but it is more prevalent in international markets since the payment systems/modes available in those markets are much more robust in comparison with India. Here, there are a number of RBI guidelines that need to be followed and a number of hoops you have to jump through to ensure that if you are doing a recurring auto-renewal type payment, you are authorised to process the same. But to summarise it, yes the option is definitely offered by domain registrars.
Can't registrants get an account manager assigned to their domain names?
There are a couple of companies that provide it as a service to corporates with a large portfolio of domain names. They will assign an account manager to the companies; the account manager ensures that the domain names are renewed in time. Some of the existing registrars also provide the same as an add-on service.
Does BigRock provide it?
No, primarily because it is not a scalable business.
What are the three steps that can be taken to avoid such a situation?
They are as follows:
1. The company should ensure that the contact details registered with the domain registrar are correct and up to date. Ideally the contact details should be general in nature (which is accessible by many people) and not of particular individuals, since they can eventually leave the organisation/go on a vacation, etc.
2. If your registrar supports it, companies should make use of the auto-renewal option. It only takes a few dollars and can save a lot more. The biggest example can be the business Yatra might have lost in the period that the site was down. They should work closely with their registrars and choose the ones that go the extra mile to offer additional reminders (apart from the ones that are mandated by ICANN).
3. Companies can also renew their domain names for a longer period of time. Instead of a year or two, companies can renew the domain name for up to 10 years. You are paying extra upfront, but it doesn't matter if you plan to keep the site live for the duration.
(Edited by Joby Puthuparampil Johnson)
Comment(s)