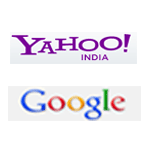 Internet major Yahoo beat search engine giant Google in overall monthly web traffic in the US, for the first time in more than two years, according to comScore Media Metrix report, which ranks the top 50 web properties in the US.
Yahoo, with 196.6 million unique visitors for the month of July 2013, overtook Google which received 192.3 million visitors, followed by Microsoft sites (179.6 million), Facebook (142.3 million), AOL (117.4 million) and Amazon sites (110 million), said the report. The last time Yahoo beat Google in monthly traffic was in May 2011.
To prepare the report, digital footprint analytics firm ComScore took into account the total number of visitors Google and Yahoo received for all of their web properties, instead of measuring how many people visited Yahoo.com and Google.com.
However, the firm did not consider mobile traffic to come up with this report. If these numbers are added, Google may still be at the top and Facebook which is increasingly getting traffic from the mobile users may possibly rank higher.
(Edited by Joby Puthuparampil Johnson)
---