Samsung launches Galaxy Tab 3 Kids, comes with educational content & time management feature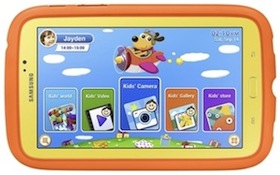 After launching a range of tablets targeting most sections of the price market (from low-priced to high-range devices), Samsung has now focused on an entirely different target audience with its new tablet offering. The new device, called Galaxy Tab 3 Kids, is focused on children (as the name itself suggests), and will combine rich content with security and durability for kids.
"It's no secret that kids are using technology more than ever before. We saw an opportunity to create a device just for kids that provides them with a fun and kid-friendly user experience filled with rich, interactive and educational content that parents will love," said JK Shin, CEO and head of IT and mobile communication at Samsung.
Here is a look at the specifications of the tablet.

The tablet has a 7 inch WSVGA TFT capacitive touchscreen display (1024x600 pixel resolution) with 170 ppi pixel density, and runs on the latest Android 4.1 (Jelly Bean) operating system. It is powered by a 1.2 GHz quad-core dual-core processor and has 1GB of RAM. In terms of internal memory the users will get 8GB, which can be further expanded an additional 32GB with a microSD card.
Galaxy Tab 3 Kids packs a 3 mega pixel rear camera that can record videos and a 1.3 MP front-facing camera for video calls. On the connectivity front, the device has Bluetooth 3.0, Wi-Fi (with Wi-Fi Direct), and it also comes with a micro USB port and a microSD card slot. The device has a 4,000 mAh battery and will come with a full suite of popular Google apps like Gmail, YouTube, Google Talk, Google Now and Google Maps (with turn-by-turn navigation), etc.
The tablet measures 111.1mm x 188mm x 9.9mm and weighs 302 gm. It will be available in yellow colour.

The device will come pre-loaded with top ranked kid's apps and a new 'Kid's Store'. Pre-loaded content will include educational, games, entertainment and e-book apps. The tablet also offers parents the ability to select the apps they want their kids to have access to using the application manager. In addition, the tablet also comes with a 'time management' feature that allows parents to set specific time periods for use (for example an hour).
When the designated use time is up, a password protected lock screen appears, requiring a parent or adult to enter the password to unlock the device. This tool will help parents ensure that children don't end up spending a lot of time on the tablet. The company is also providing a kids case featuring a kids-friendly grip and multiple stand options. The case also comes equipped with an easy-to-grip 'C Pen', providing drawing capabilities.
The tablet will be available in Korea in early September, post which it will be launched across China, Europe, the US, Africa, South America and South East Asia. The availability of applications through 'Kids Samsung Apps' will vary by market. An Indian launch date or pricing was not available at the time.

Earlier this month, the handset manufacturer had launched its user interface (UI) for select Galaxy smartphones and tablets in nine Indian languages including Hindi, Punjabi, Bengali, Tamil, Telugu, Kannada, Malayalam, Marathi and Gujarati. For the same, it has partnered with Bangalore-based Reverie Language Technologies, which makes text communication possible in 32 languages via instant transliteration and facilitates it across digital platforms and devices.
---