All of us have at one time or the other tried out our hands at some form of photography. Some of us go on to become professional photographers, while others are left taking their own 'selfies'. And yes we can use the word selfie now, even Oxford Dictionaries online quarterly update has added it as 'a photograph that one has taken of oneself, typically one taken with a smartphone or webcam.'
Coming back to the point, while most of us are familiar with the Instagrams of the world, there are a number of other apps that also offer interesting photo editing features/options. In this week's App Tracker, we will be featuring some of the popular ones from Android and iOS platforms. Note that this is not a comparison of the apps with Instagram, rather an introduction to the various other apps available for photography enthusiasts. Also, considering there are like a zillion apps out there, for the purpose of the story we selected the top three free photography apps that are available on the Android and iOS platforms.
Photo Editor by Aviary (Android)
The photo editing app packs in photo correcting and enhancing tools along with photo filters. While the basic app is free of cost, users can purchase optional additional tools as well.
The app begins with a carousel of recent images of the phone (once the photo library is imported), and users can either select from those or click one from the in-built camera of the smartphone. The editing tools are all present in a strip at the bottom of the screen, and apart from the basic photo correcting tools like cropping, brightness, saturation, and warmth etc., the app offers 12 filters, text, drawing and clip art tools. Three tools to enhance the picture—hi-def, illuminate, color fix—are also available.

In addition, it also offers fun elements like stickers , frames as well as meme art. Both stickers (three packs available, though none is free) and frames (two packs available; one is free and one has to be purchased) have to be download separately. Once the editing is completed, users can also share the pictures on social media and other compatible apps like WhatsApp, Dropbox, Evernote, etc.
The UX is pretty clean and glitch-free and editing is fast. Once an editing feature is applied and saved, users can't go back; so if you don't like what you have done to the picture (after a few steps), you will simply have to start again from scratch.
Takeaway: A good app, although it cannot make picture collages which are quite a rage these days. Also, some of the filters look a bit repetitive and at least a few stickers should be free.
TC rating: 3.5/5
Google rating: 4.7/5
PicsArt Photo Studio (Android)
An all-inclusive app that lets you edit pictures and make collages with a slew of features at your disposal. The app's strong point is the abundant features it offers in each category. Users can choose whether they want to edit a picture from the library, take a picture from the smartphones camera, or make a collage of existing pictures.
In addition to basic photo correcting tools like cropping, brightness, saturation, and warmth, etc., it also offers text, drawing, clip art, stickers, borders, callout tags, and frames. But unlike the Photo Editor app, all of these are available free of cost (additional stickers and themes can also be purchased). Users can also make use of seven photo effects, with multiple filters in each (like pop art, artistic, paper art, distort and color splash, etc.), and can also share their final product on social media and compatible apps.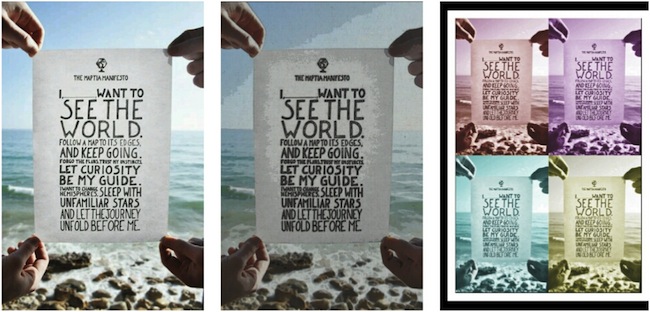 The most interesting feature we found was the picture collage wherein multiple combinations, backgrounds and grids are available. Taking a cue from the Facebook cover pictures' popularity, there is also one grid exclusively for Facebook cover picture. Also, while the app is ad-supported, users can make an in app purchase for an ad-free version.
Takeaway: One of the most popular apps on Google Play, PicsArt is a near perfect app for photo enthusiasts. The only dampener (a temporary one) is that it can take users a while to get a hang of the app, considering the numerous features that are offered by it.
TC rating: 4/5
Google rating: 4.7/5
Color Effects FX HD Free (iOS)
Like its counterparts, users need to first select whether they want to make changes to an existing picture or click a new one. Once that is done, the app enables users to give photos a dramatic look by converting them to black and white, while keeping the area chosen (can be selected via a brush motion with the finger) by the user in colour. In doing so, the viewers' attention is drawn to the coloured area.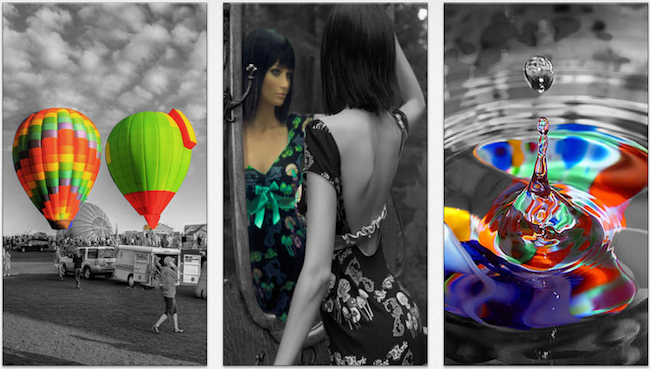 You can choose from different size of brushes, zoom in and out (using the two-finger pinching gestures), and unlike the other apps, this one also comes with an undo function. Users can also use their fingers as a brush to paint sections of their images black and white, or to bring them back to the original colour. While the basic app is free, users can also choose to purchase the full version that comes with additional functions.
Once edited, users can save and share the images on social media sites. The app is compatible with iPhone, iPod touch and the iPad and requires iOS 4.0 or later.
Takeaway: A straightforward app that does not offer much. But what it does, it does so efficiently. But it cannot be directly compared with the other apps mentioned above since it lacks the breath of features offered by both.
TC rating: 4/5
iOS rating: 4.5/5
That is all for this week's edition of App Tracker, but keep track of this space for your weekly dose. In fact, if you find an interesting app out there and want it reviewed by us, you can send us a 'tip' at editorial@vccircle.com. And for all those startups that want their apps featured on Techcircle.in in the future, you can also send in your requests, along with a brief descriptor of your apps to the above mentioned email id. Till next time, keep tracking.
(Edited by Joby Puthuparampil Johnson)
---