Nokia patent move may mean big payoff post Microsoft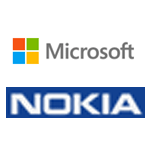 Nokia may have sold its handset business to Microsoft Corp, but by hanging on to its valuable patent portfolio, the Finnish company could also get a big future payoff at the expense of Android phone makers.
Microsoft agreed on Tuesday to pay 3.79 billion euros for Nokia's handset business and another 1.65 billion euros for a 10-year license for Nokia's patents, considered some of the highest-quality patents in the mobile market.
"This involves the right to, in effect, make use of Nokia's inventions," Microsoft general counsel Brad Smith said on Tuesday. "It doesn't involve the transfer or ownership of the patents itself."

Until now, Nokia has not widely licensed many of its patents, preferring instead to use them to protect its handset business against competitors, Nokia spokesman Mark Durrant said in an email to Reuters.
"Once we no longer have our own mobile devices business, following the close of the (Microsoft) transaction, we would be able to explore licensing some of those technologies," he added.
Once the world's dominant handset maker, Nokia has failed to close a huge lead opened up by Apple Inc and Samsung Electronics Co Ltd in the highly competitive market for smartphones. It will now concentrate on its networking equipment unit, navigation business and technology patents.

The Finnish company has long been a savvy player in the intellectual property market. It sued Apple in 2009 and then reached a licensing deal with the iPhone maker. The terms were not disclosed, but the deal was believed to be worth hundreds of millions of dollars to Nokia.
For Microsoft, taking a license for Nokia's patents rather than buying them serves a strategic objective as well. Microsoft has already convinced about 20 Android manufacturers to pay patent royalties as part of its effort to raise the cost of Google Inc's mobile operating system.
Now, Nokia remains free to go after the same Android manufacturers for royalties as well, although Nokia spokesman Durrant did not reveal specific targets.

"It wouldn't surprise me at all to see litigation filed by Nokia in coming months," said one senior IP executive who has dealt with both companies, but did not want to be identified to maintain those relationships.
Had Microsoft bought Nokia's patents outright, the pincer movement against Android likely would have been precluded, the executive said.
Nokia also gave Microsoft the option to convert the 10-year agreement to a perpetual license, which Smith said Microsoft would exercise.

The market for high quality mobile patents, such as Nokia's, could be quite strong judging by past deals. Google, for instance, paid $12.5 billion in 2011 for Motorola Mobility, a transaction largely driven by the patent value.
"For Nokia to sell the business, and not sell the patents, there must be something else cooking to recover value," said Michael Pierantozzi, a partner at Lumen SV, an intellectual property advisory firm.
Nokia could decide to try to sell its patent portfolio as a whole if the company thought it could get a price approaching the Motorola deal, Pierantozzi said, adding that Microsoft likely was not willing to pay that much.

Nokia "probably just weren't getting the price they were looking for," he added.
---