Bangalore-based Thrillophilia raises over $200K from Hyderabad Angels, CIIE, & others


Thrillophilia Adventure Tours Pvt Ltd, the company that owns and operates Thrillophilia.com, an adventure travel company, has raised over $200,000 (Rs 1.25 crore) in funding from Hyderabad Angels, iLabs Venture Capital Fund, Navlok Ventures and Centre for Innovation, Incubation and Entrepreneurship (CIIE) IIM-A.
Headquartered in Bangalore, the company was founded by Chitra Gurnani Daga (CEO) and Abhishek Daga in 2009. Chitra holds a MBA degree from Indian School of Business (ISB), Hyderabad, and had earlier worked at SAP and Infosys. Abhishek holds a B Tech degree from IIT Varanasi and was working at Cisco, prior to co-founding the startup.
Targeted at the niche travel activity segment, the company is basically a travel curator that offers more than 400 activity-based tours and 1,000 offbeat travel experiences on its portal. According to the company, it has served over  50,000 travellers and 500+ corporate clients in the last three years. Some of its corporate clients include companies like Google, Mercedes-Benz, Accenture, Volvo, Wipro, Infosys, ITC Ltd, HDFC Bank, Indian Oil, Yahoo, Dell, Bajaj, Mahindra, FedEx, among others. It has a presence in 72 cities and has alliances with 450 regional service providers.

"The activity-travel segment is the third largest segment in the travel industry after hotel and air travel. Not only individuals but also organisations look forward to exploring outdoor experiences merging fun and leisure with corporate learning," said Hyderabad Angel's Pradeep Mittal, who is also the lead investor in this deal.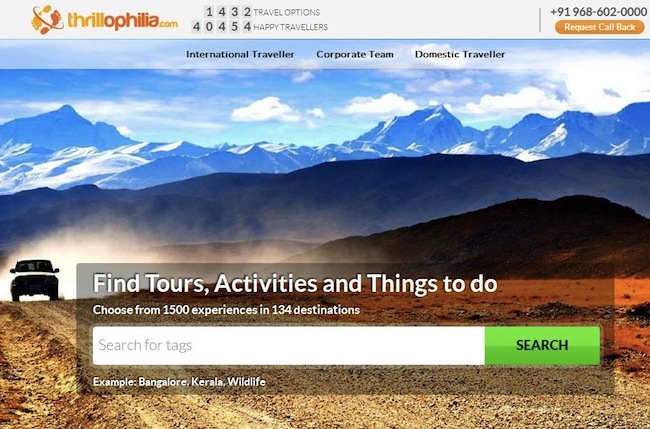 "Thrillophilia.com currently caters to more than 2,200 customers a month and has grown 200 per cent year after year. The market trend is changing from regular sight-seeing travel to activity-based and experiential tours. Thrillophilia curates such off-beat experiences for its travellers," added Raghu Bathina from Hyderabad Angels.

The company curates and plans adventure and activity trips for corporate houses, international travellers and individuals throughout the country. Recently, it started focusing on providing short-duration experiences and things to do across different destinations. The user is not restricted to booking long tours and planned itineraries and instead they can opt for short experiences such as a one-hour elephant ride, a night camp in a forest, a royal dinner at a palace or a micro light flight tour. It also has an outdoor team that does ground-level research on local vendors and travels across destinations to curate and verify experiences.
"In India, there aren't many travel portals that solve the problem of booking activities and local experiences in real time for travellers. Moreover, the trend of using an online portal to book such experiences is still in its nascent stages. A lot of our corporate customers who have also been the initial adopters have liked these short experiences," said Chitra.
According to her, the primary challenge for the company is real time inventory management because most of the regional vendors are not connected to the system at all times. It is planning to add 6,000 experiences to the site by December this year and serve one lakh experience hours on a monthly basis by the fourth quarter of 2014.

---