Hellofood.com.br, the Brazilian unit of Hellofood.com, a Rocket Internet-backed online food ordering platform, popularly known as Foodpanda.in in India, has acquired Peixe Urbano Delivery, its competitor in the Latin American country, for an undisclosed sum.
This is Hellofood's third such deal in a row in Brazil; it acquired Jánamesa and MegaMenu in August this year. With this acquisition, Hellofood will get access to more than 2,000 restaurants in the country and will become a leading player in the region. Started in Minas Gerais, Peixe Urbano Delivery is an online food delivery service, with presence in Rio de Janeiro and São Paulo as well. Earlier known as The Delivery, it renamed itself as Peixe Urbano Delivery after acquiring Peixe Urbano in 2012.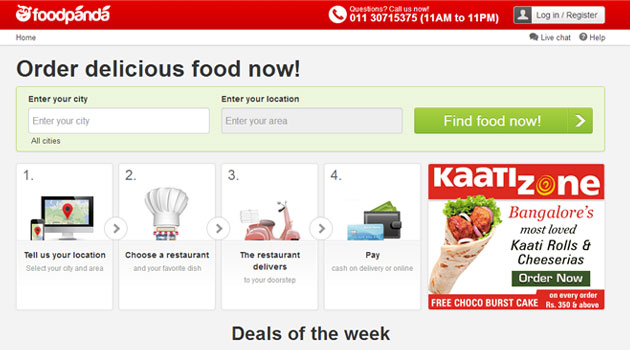 "With this third acquisition in just four weeks, we consolidated our position in Brazil. Now we are one of the market leaders, offering the largest number of restaurants to our customers. We will not stop here and will always be looking for great opportunities," said Ralf Wenzel, global managing director of Hellofood.
Founded in April 2012, Hellofood.com features location-specific listing of restaurants on its site. Users can check out menus, along with special offers, post which they can order and get them delivered to their homes. One can also search for restaurants according to cuisine, and/or by other parameters such as vegetarian/non-veg, healthy food, etc. The company helps restaurants increase sales through online and mobile platforms and also provides them with technology and analytics.
The firm is focused on emerging markets and is offering online food ordering services in 28 countries in five continents. These are Indonesia, Malaysia, Pakistan, Singapore, Taiwan, Thailand, Vietnam, Ghana, Ivory Coast, Kenya, Morocco, Senegal, Nigeria, Russia, Argentina, Brazil, Chile, Colombia, Mexico, Peru, Hungary, Venezuela, Poland, Ukraine, Romania, Czech Republic, India and Saudi Arabia.
Last week, Hellofood received $8 million in funding from iMena Holdings, an online consumer business group operating in the Middle East and North Africa (MENA) region. In May this year, it raised over $20 million from a group of investors that included Investment AB Kinnevik, a Sweden-based investment company and Phenomen Ventures, a Russia-based venture capital firm. Existing investor Rocket Internet also invested in the round. Around the same time, the company also appointed Rohit Chadda as its second MD in India. Chadda will serve as the product head for the Asia region, while Amit Kohli, part of the original team, will continue as MD and focus on sales and marketing.
(Edited by Joby Puthuparampil Johnson)
---