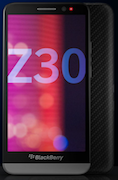 Within a week of launching a mid-priced touch and type smartphone called 9720 in the Indian smartphone market (available for Rs 16,000 later this month), struggling Canadian handset manufacturer BlackBerry (previously Research in Motion or RIM) has unveiled the successor to its flagship Z10. Taking a cue from the growing popularity of large screened devices, this time around, the company has opted for a phablet. While the company has not disclosed the entire specs sheet of the device, here is a look at what you can expect this time around.
According to the company, Z30 is the 'biggest, fastest and most advanced smartphone till date' from BlackBerry. It comes with a 5 inch Super AMOLED capacitive touchscreen display (the biggest ever on a BlackBerry smartphone), and runs on the latest BlackBerry 10 OS version 10.2 out of the box. It is powered by a 1.7 GHz processor with quad core graphics and also has the largest battery yet on a BlackBerry smartphone (a must have considering the large screen). It has a 2,880 mAh battery that the company claims will provide up to 25 hours of mixed use.
In comparison, Z10 sports a 4.2 inch capacitive touchscreen display (768×1280 pixels resolution) with 355 ppi (pixels per inch) pixel density, is powered by a 1.5 GHz dual-core Qualcomm Snapdragon processor and has 16 GB that can be expanded up to 32 GB with a microSD card. Similar to the Z10, the Z30's touchscreen keyboard will learn your writing style and suggest words to help you type faster, more accurately and with the least effort. And if you tend to mistype certain letters regularly, the keyboard will remember and adjust accordingly to make sure you hit the right key.
While camera details were not available, it will come with Time Shift mode, which captures milliseconds before and after you click the photograph – so that you can scroll back on the 'dial' to open your friend's eyes (assuming they were closed when the picture was taken) and then go forward to catch another friend smiling (if he/she was not at the time of the click), before combining them all to create the perfect picture. New features of the BlackBerry 10 OS version 10.2 include:
BlackBerry Priority Hub: While BlackBerry Hub is the one place to manage all your conversations and notifications, the new BlackBerry Priority Hub will learn what conversations and what people are important to you, making it fast and easy to find the messages and information you need. It collects priority messages across your email, social networking and other accounts and gives you instant access to the conversations most important to you.
BBM Now in any app & Message Previews everywhere: You can now get a preview of any message as it arrives in whatever app you are using, and immediately dismiss it or tap it to read the full content and respond. In addition, even if your phone is locked, you can tap the various icons on the 'lock screen' to see an instant preview of your most recent messages and notifications.
Stereo audio and BlackBerry Natural Sound: The BlackBerry Z30 smartphone comes with stereo speakers for better music, videos, apps and games experience (taking a cue from HTC, are we!). The BlackBerry Natural Sound makes BBM Voice and BBM Video chats sound more natural and realistic.
New antenna technology: The device features BlackBerry's new generation antenna technology that tunes reception for better connectivity. According to the company, the Paratek Antenna will provide faster data transfers and fewer dropped calls in low signal areas.
Here is a promotional video introducing the smartphone and its new features.
VIDEO COMES HERE
Apart from the Z30, the new BlackBerry 10 OS version 10.2 will be made available for the Z10, Q10 and Q5 smartphones beginning mid-October. The BlackBerry Z30 smartphone will roll out from select carriers and retailers around the world beginning next week in the UK and Middle East. The company will also provide a variety of supported accessories (including cases and chargers) with the device.
In terms of competition, the device will face off against the likes of Samsung Galaxy S4 (5 inch screen), Apple's iPhone 5s (4 inch screen), HTC One (4.7 inch screen), and Sony's Xperia Z1 (5 inch screen), among others.
BlackBerry has been failing time and again in pricing its device correctly in India. The company got the pricing wrong twice with Z10 and Q10, then repeated the same mistake with its youth targeted Q5. Hopefully, the company will be more judicious this time, especially in a country like India where the company's most successful offering has been (and is, till date) the entry-level BlackBerry Curve 8520.
---