Amazon.in makes its fashion debut, launches jewellery and watches categories
Amazon.in, the marketplace launched in India by Amazon Seller Services Pvt Ltd, part of the world's largest e-commerce firm Amazon.com, has added two new categories to its offerings – fashion jewellery and watches. The marketplace had kicked off earlier this year (June 2013) with just two categories (books and movies & TV shows) and has been expanding rapidly ever since.
As of now, the site is offering over 27,500 products (22,000 in fashion jewellery and 5,500 in watches category) from more than 180 brands (130 in fashion jewellery and 50 in watches category) and designers in the fashion jewellery and watches categories.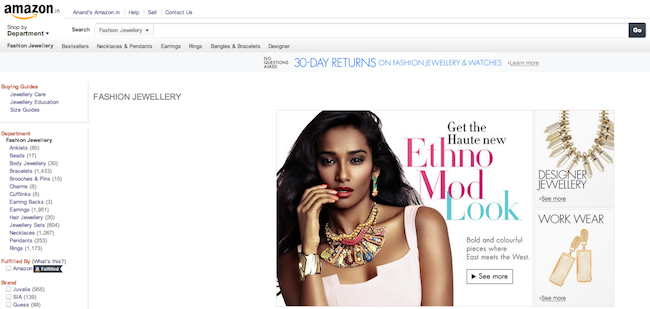 The fashion jewellery store offers products across a wide range of categories including anklets, necklaces and pendants, earrings, rings, bangles and bracelets, and jewellery sets, etc. from a starting price of Rs 49. The products can be filtered according to brand, price, discount offered, metal, colour, gender, material, new arrival, availability, and seller. The brands available on the site include Gitanjali, Guess, Peora, Diovanni, Pretty Women, Sia, Toniq, among others. It also showcases products from a number of designers like Isharya, a California based designer, as well as Indian designers Nitya Arora, Bansri, Rosalind Pereira, Mansi Choksi, Aavriti Jain and Siddharth Daspan, Vandana Dewan, and Vijetha R, among others.
Narendra Kumar, creative head, Amazon India, said, "The designs range from international to tribal, from spunky to ethnic and from established brands to new designers. In addition, every month we will present a special trendy collection (this month's Haute new Ethno mod look)."
The watches store offers an assortment of over 5,500 products from more than 50 leading brands including Casio, Timex, Titan, Fastrack, Fossil, Esprit, Tommy Hilfiger, Sonata, Citizen, Disney, Diesel, DKNY, Guess and more. The collection features watches for men, women and children, across fashion, dress, casual, sports, and classic ranges. The site is also offering a collection of sports watches which include running, outdoors, fitness and chrono sports watches.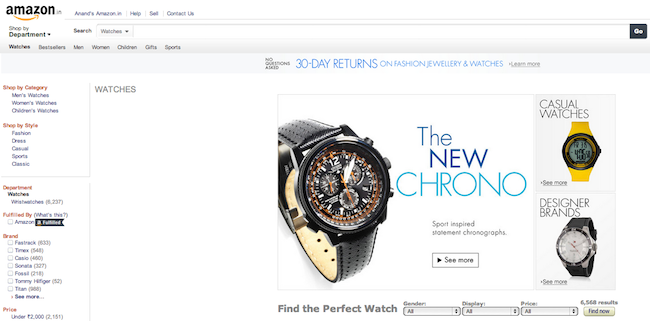 As an introductory offer, the company is also offering free delivery on all orders (with no minimum value) Fulfilled by Amazon. A number of retailers like Kamdar & Kamdar and Gitanjali are already making use of the same. In addition, the company is also offering a no questions asked 30-day returns policy for purchases made in the fashion jewellery and watches stores.
Note that in most countries where Amazon operates, a seller (of any size) who wishes to opt for 'selling on Amazon' service, can set up his/her own account and begin selling online on the Amazon platform. But in India, the company first evaluates a seller's ability to maintain high standards of customer experience and only then extends an invitation to the seller.
Although you will find a number of online marketplaces offering the same products, we feel that the key differentiators for Amazon will be global customer reviews (integrated with the categories) and its personalised recommendation engine. This is crucial as people looking to buy electronics, cameras or mobile phones refer to these reviews before making a purchasing decision.
With the launch of these two new stores, the site is now offering over nine million books and 1.7 million eBooks, and over 95,000 products. These are offered in 11 categories including books & e-books, movies & TV shows, the Kindle family of e-readers & Kindle Fire tablets, mobile & accessories, camera & photography, portable media players and computers & accessories, toys & baby products, personal care appliances, fashion jewellery, and watches.
While according to the site, the next categories that will be added to the site will include home and kitchen, we feel that it is just a matter of time before the company also adds fashion apparel to its offering. Once that is done, it will directly lock horns with Indian fashion e-commerce premiers like Myntra.com (claims to be the category leader in the country as of now), Jabong.com, Yebhi.com and Flipkart.com, among others.
Comment(s)