Fashion and lifestyle etailer Yebhi.com, run by Big Shoe Bazaar India Pvt Ltd, claims to be clocking monthly GMV (gross merchandise value) of around Rs 31 crore. Nikhil Rungta, chief business officer, Yebhi.com, said 20-25 per cent of this GMV is contributed by the firm's in-house private label brands across categories.
Rungta, who joined Yebhi in March this year from Google India, said the etailer houses more than 25 own private label brands across categories. "We were the first ones to experiment with private labels. Private label is a major focus area for us not only for higher margins but also due to the flexibility it gives us in terms of pricing, quality and designs," he said.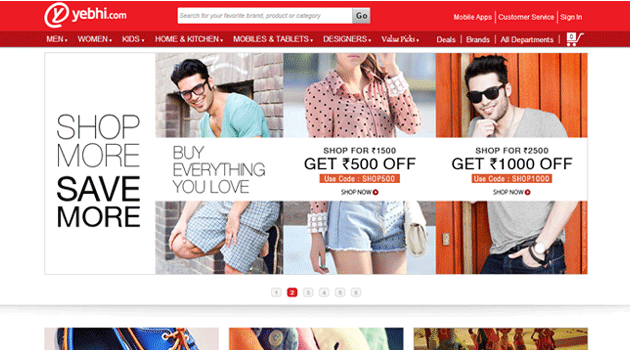 He said Yebhi is clocking 6,000-7,000 orders a day with the average order value being around Rs 1,500; going by this, its GMV would range between Rs 27 crore and Rs 31 crore. This is exactly half of what Myntra is clocking, as it shared with Techcircle.in earlier this year.
Interestingly, a few months earlier, talking to Techcirle.in, Manmohan Agarwal, founder & CEO, Yebhi.com, had said the site is clocking five-figure orders a day with the average order value of Rs 1,700 (meaning a much higher GMV). So has the site's performance come down in last four-five months? Rungta said there might have been some confusion earlier but maintained that the numbers he has shared now are the ones to be referred to.
Earlier this year, Yebhi raised $12 million (Rs 65 crore) from its existing investors in a bridge round. It was speculated then that the etailer was in the market to raise its Series D for quite some time and the bridge round was done to help the company burn some cash in the interim period. The Series D has not happened so far; when asked about the same, Rungta said the firm is in the market to raise funds even now. "We want to use the capital now for further expanding, marketing and strengthening the brand," he said. Though he refrained from sharing how much amount the firm is looking to raise ('as much as we can get' is what he said), sources earlier told Techcircle.in that it is looking to raise $40 million.
Yebhi.com had last raised Rs 100 crore ($18 million) in Series C funding. The round was led by Fidelity Growth Partners India and Qualcomm Ventures; existing investors Nexus Venture Partners and Catamaran Ventures—the private investment arm of Infosys co-founder NR Narayana Murthy—also participated in the round. It had raised around Rs 50 crore ($9 million) previously in two rounds. In 2011, Catamaran Ventures led the second round of funding worth Rs 40 crore. In 2010, it had raised its Series A worth Rs 10 crore from Nexus Venture Partners. Including the last bridge round, the total capital in Yebhi is around $39 million.
Would Yebhi look at a consolidation or a merger, considering the investment scenario in ecommerce currently? 'No', Rungta said. "We are doing pretty well. We are focused on building a strong business and we will continue to do that. If you have a good business, there will be someone who will want to invest; till then you improve the product customer service and run a tight ship," he said.
Talking about ecommerce as a sector, Rungta said patience is what is lacking in the ecosystem as of now. "There is no doubt about ecommerce becoming big in India but we should have patience. Amazon took seven-eight years to become what it is and the whole industry in India is not that old as of now. So we should give it more time," he quipped.
(Edited by Joby Puthuparampil Johnson)
---