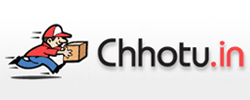 E-commerce last mile logistics startup Chhotu.in has come under the receiving end of the Indian startup ecosystem's capital crunch. Due to the startup being unable to raise follow-on funds (and scale), two out of its 13 angel investors have written off the investment. These include Rajesh Sawhney (founder, Global Super Angels) and Vijay Shekhar Sharma (founder, One97 Communications), who have both confirmed the write off to Techcirlcle.in.
"It is a tough market for logistics companies. Chhotu has done a tremendously good job till now but going forward they need a larger round of funding which they are not able to raise. Without the capital, they won't be able to scale," said Sharma.
Run by Santa Claus Couriers Pvt Ltd, Chhotu.in was founded by Navneet Singh (CEO) and Adhar Aggarwal in 2011. The company had earlier raised an undisclosed amount in angel funding from Global Super Angels (GSF). Sharma was one of the 13 investors in that round, and currently holds a board seat in Chhotu.
The startup has been looking at raising a follow-on round for 6-8 months. Sharma added that had the founders been able to find more investors, he was keen to participate in the follow-on round.
The development was first reported by Business World. Sawhney told the publication, "They could not scale the business. E-commerce is going through a tough squeeze and the individual players are struggling." Singh has also come on record stating that though the company is not taking fresh orders, it is still in business. "We are yet to make an official announcement," he said in the Business World report. All our texts and calls to him remain unanswered.
On whether the startup is looking to shut shop, pivot its business model, or looking for an acquisition, Sharma shared that pivoting is something the founders are not keen at. "They are either looking for someone who can invest a large round or buy the company," he added.
Talking to Techcircle.in last year in October, Aggarwal, co-founder and COO, Chhotu.in had stated that the company was delivering on an average 1,000-2,000 orders a day. This translated to around Rs 12 lakh as monthly revenues at that time. The startup has operations in Delhi-NCR, Chandigarh and Bangalore, and had more than 40 e-commerce companies as its clients (at that time).
Keep track of this space for more updates on the development.
---