Meracareerguide claims to have user base of 1.5 lakh students; 5% of them opt for paid services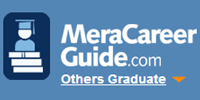 Two-year old career counselling portal Meracareerguide.com was started with an aim to provide easy career guidance to students across age groups. The founders wanted the platform to become a helping hand for students so that they can choose the respective streams and subjects based on scientific research and not on what peers are taking or parents are saying.
For the founder duo Surabhi Dewra and Love Chopra, the startup was a culmination of the confusion they faced while making their own educational decisions. "It was the result of the experiences that I faced when I was in my graduation. When I look back I realise there was no one to guide me and everything went by fluke," said Dewra, co-founder, Meracareerguide.com. In 2011, Dewra joined hands with Love Chopra, a family friend who also faced similar problems in his career path, to launch Meracareerguide.com.
How does Meracareerguide work?
The site offers career guidance for students starting from 8th standard to graduation across all streams like B Tech, BE, B Com, BBA and BCA. In all these streams, the site follows a freemium model for counselling. While the basic content is free, students are charged for further services like career assessment, psychometric test, personality test, etc. While it mainly follows a B2C model wherein students pay directly, the startup has also tied with up a few institutes which use their services. "For institutes which tie up with us, it is up to them to decide if they want to charge the students or pay us themselves," Dewra said. Currently, the site has a registered user base of 1.5 lakh students of which 5 per cent are expected to opt for paid services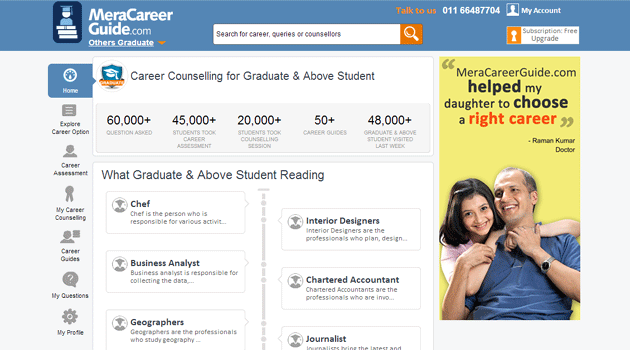 Students can sign up and browse through content or buy a subscription package. Various packages are available. For instance, for graduates, the career report costs Rs 499, a career development kit costs Rs 999 and a career protection plan for a year costs Rs 4,999. We tried using the career assessment option which was available on the site. After going through a long multiple-choice questionnaire, it stated that the results of the assessment are to be purchased. That was quite a setback; it should make it clear to the test taker that they will have to purchase the report.
The startup has managed to gain some investor interest too. In December last year, it raised an angel round from Indiagames founder and angel investor Vishal Gondal and Ronnie Screwvala, founder of Unilazer Ventures and MD, Disney-UTV India. "The amount that we raised was used for product enhancement and team expansion. We were a four-member team then and now we are an 11-member team," Dewra said.
She said the firm is raising its Series A round worth $1 million. The money is already slotted for building the product, strengthening technology and creating more channel partners. "Besides, the money we will raise will help us land at least half a million paid subscribers in a few years," she said.
On whether they would look at expanding the product to other regions outside India, Dewra stated that Meracareerguide is better suited for home turf. "It is a domestic, disruptive product but we do see scope in MENA countries. We have not yet evaluated this but definitely there is scope since they have similar needs and educational structures in place."
Despite low conversion rate, the site has been doing well, as claimed by the founders. The reasons for the steady performance are higher margins and the growing trend of opting for career counselling. Talking about some growth metrics, Dewra said in the last financial year the site saw a 100 per cent jump in revenues and the end of current FY they are looking at a 400 per cent jump. "In a year, we want to have 50,000 paid subscribers with an ARPU of Rs 750-900 which comes to revenue of Rs 2.5-3 crore," she said. As of now, the portal only has paid subscription as the revenue stream and may look at streams like ads and creating a marketplace for private career counsellors. Dewra said there are absolutely no ads as of now since the portal would first want to reach a critical mass of audience before they opt for display ads.
While there are many startups gaining traction in educational counselling and career guidance, Dewra argued that Meracareerguide is different from other players. "We have multiple competitors; sites like Vidyarthi, Shiksha.com, Career360 and private career counsellors who have a hold in specific geographical areas are competitors for us. But, we are providing content, assessment and counselling whereas competitors are catering to only one or two of these," she said. To tackle independent career guides, the team of Meracareerguide is also looking at an offline model wherein they can provide the students with face-to-face counselling.
Though career counselling is an emerging segment, especially in a market like India, competition from local players can prove to be a dampener. But the right kind of pricing can do the trick for price-sensitive yet career-conscious customers. With a growing number of career options and students becoming aware of the need of professional help in choosing the right stream, Meracareerguide aspires to be a service that has a share of educational spend in households in the country.
(Edited by Joby Puthuparampil Johnson)
Comment(s)