Google has announced that its search engine has started supporting hashtag to enable users to discover relevant conversations around a particular topic occurring on its social site Google+. As of now, the feature is available only for its US and Canada sites, the company said in a blog post. It is not immediately clear when the new feature will be introduced on its other regional domains, including Google India.
"In May (2013), we added related hashtags to the Google+ stream, turning any post into an opportunity to go deeper and explore what is interesting to you. Today we are bringing a richer hashtag experience to Google search," the company said in the blog post.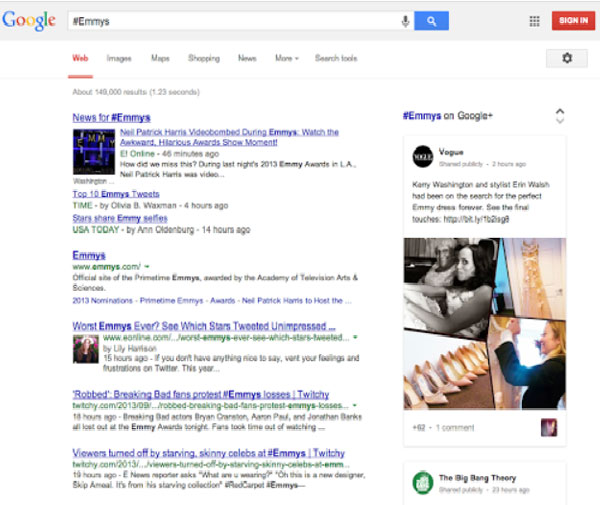 Here is how it works
When you search on Google for a hashtag, say [#AmericasCup] or [#WaterfallWednesday], a set of relevant Google+ posts may appear on the right side of the screen. You will only be able to see posts that have been shared publicly or shared with you. If you click on any of these posts, you will go to Google+ where you can see the full set of relevant posts. You can also see links to search for these hashtags on other social sites such as Facebook and Twitter. While these posts will not get highlighted, the links to Twitter and Facebook posts will appear underneath Google+ posts.
For those who don't already know, the hashtag symbol is used (mostly on Twitter) before a relevant keyword/phrase in tweets to find relevant posts related to that word/phrase. Clicking on a hash-tagged word in any message will show you all other tweets marked with that keyword.
(Edited by Joby Puthuparampil Johnson)
---