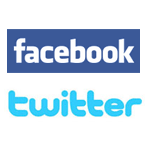 When Facebook Inc was preparing to go public last year, the telephones at Granite Investment Advisors rang off the hook as clients called about the social media's company's highly anticipated debut.
In stark contrast, the investment company has not fielded any calls about Twitter as of Friday morning.
"Not a single call yet," said Tim Lesko, the principal at Granite Investment Advisors, who added that he himself will hold back until he sees a few more quarters of financial results.
"We want to start seeing numbers," he said. "They need to mature a little bit before we would think that we were getting good numbers and consistent numbers."
As Twitter Inc races toward the year's most highly anticipated tech offering, memories of Facebook Inc's disappointing 2012 debut are dampening enthusiasm for shares of the eight-year-old online messaging service.
Like Facebook, Twitter enjoys strong brand recognition, which typically translates to outsized retail investor interest. That was one of the reasons Facebook was able to raise its IPO price to $38 a share, giving the company a valuation of $100 billion, or about 99 times its 2011 earnings.
Facebook shares plummeted on their first day of trading and continued to decline in the following months. They did not regain its IPO valuation until more than a year later, in August this year.
Twitter, which is expected to go public some time before Thanksgiving, has yet to determine pricing, but investors say it might come under pressure from its financial backers to go high. Analysts expect the company, which posted a $69 million loss last year, to seek a valuation of at least $10 billion.
"Right now, we think it could be a repeat of Facebook, where it comes in heavily hyped and is too expensive," said Tim Ghriskey, chief investment officer at Solaris Group in New York.
And as with Facebook, some investors point to slowing user growth and engagement as causes for concern.
From 2012's March quarter to the June quarter of 2013, Twitter's monthly active users leapt 58 percent to an average of about 218 million. But users grew just 6.9 percent between the second quarter and the first, and 10.3 percent from the fourth quarter to 2013's first quarter.
"Timeline views," a measure of how many times a user refreshes his or her stream of tweets, grew 10.7 percent in the second quarter to almost 151 billion, and 16.1 percent to 136.3 billion in the first.
"User growth seems like it has been slowing fairly dramatically for the company," warned Darren Chervitz, director of research, Jacob Funds, and co-manager of the $42.8 million Jacob Internet Fund.
"Twitter is under a lot of the same pressure that Facebook was early on, to demonstrate that they really can make money.
What, me worry?
Yet he thinks the company has room to expand its "limited" advertising options overseas, wringing out new revenue even if user growth decelerates.
Twitter revealed scorching revenue growth on Thursday, but also huge losses, a classic technology growth story reminiscent of Amazon.com Inc's own 1997 stock debut, with just $16 million in revenue and a loss of about $6 million.
Twitter's revenue almost tripled in the second quarter of 2013.
On a cautionary note, the prices Twitter can get for ads have fallen over the past five quarters. The company said that decline was the result of a deliberate effort to expand its inventory and frequency of ads, which in turn drives volume demand from marketers.
At the end of the day, most investment managers want to see a valuation, or even more financial information, before taking the plunge.
"This company is barely profitable. Whether it's $10 billion or $12 billion, it's going to trade at valuations that will be tough to stomach for a traditional investor," said Chervitz.
"You're going to have to take a leap of faith to get comfortable with the valuation."
Chris Carter, co-manager of the $521 million Buffalo Growth Fund, advised by Kornitzer Capital Management in Shawnee Mission, Kansas, said a "back-of-the-envelope" analysis of Twitter's IPO filing showed a fair market valuation for Twitter might be $10 billion.
"We're still in due diligence" on the shares, he added.
---