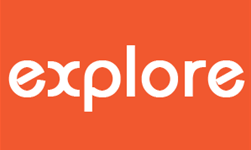 GPS navigation provider MapmyIndia has launched Explore, a social navigation app that enables its users to find millions of useful places of interest like ATMs, restaurants, petrol pumps, and hospitals, etc. around them.
You can find popular places from a list of personalised recommendations (provided by MapmyIndia) in three categories - eat & drink, places to see and places to stay (from various cities across India), along with their pictures and related info. Once a destination is selected, users can navigate to it via the app. Users can also save frequent destinations as favorites.
To add a social aspect to the app, users can also login with social networking site Facebook and pin their favourite hangouts, add photos, as well as add reviews and ratings for them. They can also follow other 'Explorers' to check what they are up to, by seeing an activity feed of what others are doing on the app.
Users can choose to set their location manually, or let Explore determine the location automatically. By choosing the manual option, you can also search places of interest around any location (and not just near you). In addition, users can also search for a particular place from the home screen itself.
Note that information like username, phone number, and contacts on the phonebook of the mobile user may be gathered during the use of MapmyIndia's products and services. In addition, when using automatic location selection, the company may collect and process information about your actual location- like GPS signals sent by a mobile device.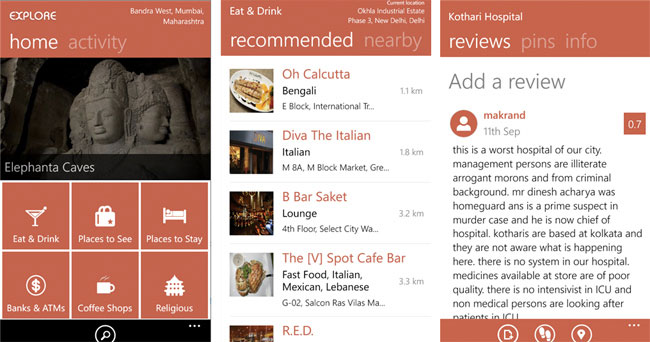 Delhi-based MapmyIndia offers digital maps and data, GPS navigation and tracking devices, location apps and enterprise geographic information system (GIS) solutions. Its product range includes portable GPS navigator devices, in-dash navi-tainment (navigation+entertainment) systems, mobile apps and printed maps & books, among others. The company is backed by a host of private equity firms such as Qualcomm Ventures, Kleiner Perkins Caufield & Byers (KPCB), Sherpalo Ventures, Nexus Venture Partners and Zenrin Co Ltd.
In June this year, the company expanded its product range by launching Trailblazer 2 for Rs 16,990. But unlike its predecessors, which mainly target four-wheelers, this one has been especially designed for bikes and comes with a 3.5 inch touchscreen display. It also includes multimedia features like music, movies and photos on the go (although we can't imagine anyone actually watching a movie while driving a bike).
Other navigation devices providers in the country include Garmin Corporation (a part of Garmin Ltd) and Dutch navigation service provider TomTom, among others. Last month, TomTom, which entered the Indian market in September 2011, strengthened its foothold in the country by updating its maps further and expanding to around 7,200-plus cities and towns for its VIA Series of portable navigation devices. The company also upgraded its MyTomTom mobile app for faster map downloads.
---