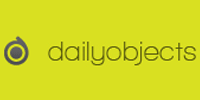 Peopic Retail Pvt Ltd, the startup that owns and operates online gadget accessory store Dailyobjects.com, has launched a customisable accessories section. For the same, the company has partnered with a North American company called CaseMyWay. Currently, the site is offering customisable cases for only smartphones, but it plans to add tablets (for Apple's iPad) to the offerings later this month. Players like Printvenue.com also offer the same.
The Delhi-based startup was founded in 2011 by Pankaj Garg and Saurav Adlakha. Started as a deal site LootSpot.com, the company rebranded (and pivoted its business model) to Dailyobjects.com in June 2012. Garg had earlier worked at companies like SaleDekho.com, Amdocs and Patni Computer Services and holds a MCA degree in computer application from Kurukshetra University, Haryana.
Adlakha holds a PGPM degree in marketing from Indus World School of Business, Noida, and had earlier worked at Renaissance Consulting and UDAAN Education Ventures. The team size of the startup is 26, including the founders.
"Due to the growing rise in the use of smartphones, people are spending more on accessories than ever before (around 13 per cent of the total MRP of the device). It is estimated that the current size of Indian mobile accessory market is Rs 72,000 crore, with just the cases and covers market being Rs 18,000 crore. But a large chunk of this market is offline and unorganized; hence we saw a niche market opportunity there," said Garg.
"Also, in comparison to directly selling smartphones, tablets and other gadgets, the margins are much higher for their accessories," he said.
How is the site faring?
The site offers mobile, tablet and laptop accessories in categories like cases & screen guards, Bluetooth devices, charging + power, storage + power, cables + organisers, stands, car accessories, audio devices and keyboards and mouse. It has around 6,000 SKUs from over 150 brands that include Quirky, Pelican, Aquapac, Krusell, iSkin, BlueLounge, Clingo, Cocoon Innovation, Skross, The Joy Factory, Yubz, Gecko and Hard Candy.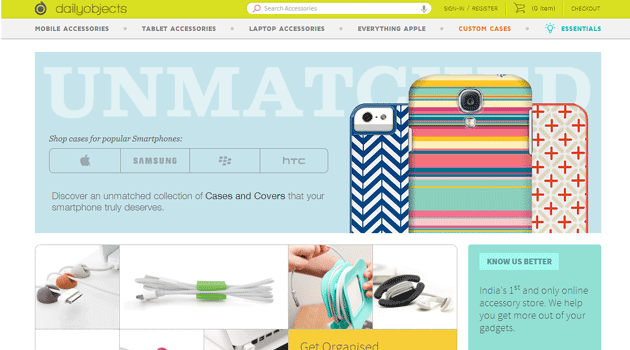 According to Garg, the site is getting around 1.25 lakh visitors on a monthly basis. It is doing 4,000 orders a month at an average ticket size of Rs 1,500. According to this calculation, the company is currently doing around Rs 60 lakh in monthly GMV. He also said 40 per cent of total sales come from Apple-related accessories alone, and hence the site has a separate section dedicated to it.
In addition, the site features an 'Essentials' section that basically provides information on useful accessories that users could require for their smartphones, laptops, inside their cars, or while travelling, etc. The startup has partnered with Blue Dart and FedEx for deliveries (with a no-questions-asked 30-day money back guarantee) and the top three cities in terms of orders are Delhi-NCR, Bangalore and Mumbai.
Funding, expansion plans and competition
After customisable accessories, the company is planning to launch its own private label brands. "It is still in early stags of development, but the launch should happen before the end of this year," said Garg.
The company is already backed by early-stage venture capital fund Seedfund that had invested in the firm around the same time it pivoted from LootSpot. It is now looking to raise Rs 10 crore next year, which will primarily be used to fuel the next level of growth.
In terms of competition, while all major e-commerce portals offer accessories, it is not the core area of focus for them and hence the inventory offered is often limited. A direct competitor for the company is Stuffcool Retail Pvt Ltd which owns and operates Stuffcool.com, an e-store dedicated to gadget accessories.
(Edited by Joby Puthuparampil Johnson)
---