Amazon has been aggressively focusing on the Indian market lately. In June this year, it kicked off its marketplace with just two categories (books & movies and TV shows) and has been expanding rapidly ever since. It now offers categories like baby products, computers & accessories, electronics, fashion jewellery, home & kitchen, kindle store, movies, toys & games and watches. It has now opened up its Android app for Indian buyers—while the app was available for download earlier, Indian customers could not make purchases from the app.
Amazon has timed the arrival of its Indian app soon after Flipkart made a major upgrade to its Android app recently. We have thus chosen the e-commerce giant's app for App Tracker this week.
Amazon.in Android app
As soon as the app opens, users have to first select the country. New users can sign up for an account on Amazon.in using the app, while existing customers can login using their Amazon.in username and password to access the same account they use via the internet. The app's UI is same as that of the global app. The app has an inbuilt barcode scanner, which we found to be a little slow.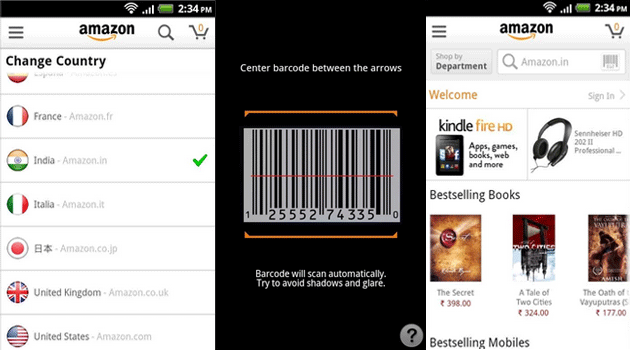 One can shop by departments and further put various filters like price, color, gender, etc. Upon choosing any product, users can also sort them price wise, popularity wise or also customer review wise. Users can also check delivery time by entering their pin code upon selecting any product. You can share the product chosen across social media or email or even add it to wish-list (if you are looking at buying it later).
If you have an account on Amazon, it is likely that your card details have already been saved; so it enables a one click shopping experience. Debit and credit card payments are available, but net banking is not yet there. It is an easy-to-use app with minimum extra elements. The app works very smoothly. However, we tried buying Kindle ebooks and the app doesn't support digital goods purchases yet, which is surely a dampener.
Takeaway: It is a no-nonsense app and works fine. If they add more popular categories like apparels to the suite and start offering digital goods (considering kindle ebooks would be one of the most popular items) then it will become a must have.
TC rating: 3/5
That is all for this week's edition of App Tracker, but keep track of this space for your weekly dose. In fact, if you find an interesting app out there and want it reviewed by us, you can send us a 'tip' at editorial@vccircle.com. And for all those startups that want their apps featured on Techcircle.in in the future, you can also send in your requests, along with a brief descriptor of your apps to the above mentioned email id. Till next time, keep tracking.
(Edited by Joby Puthuparampil Johnson)
---