Nexus-backed enterprise startup Indix launches big data platform for brands & retailers
Seattle & Chennai-based enterprise startup Indix Corp has launched a SaaS-based intelligence platform that enables businesses and brands to analyse, visualise and act on product information in real-time. The new platform will give product managers full access to all of the public data in its system that includes products, SKUs and categories. The company is also introducing a beta version of its APIs to enable third-party developers to build applications that incorporate information and insights about products and services.
Founded in 2011, Indix is positioned as a platform for product managers where they can find data, prices, product ideas and more. It was started by Sanjay Parthasarathy (CEO) after he left Microsoft back in 2011. He was joined by other co-founders Sridhar Venkatesh, Rajesh Muppalla, Satya Kaliki and Jonah Stephen Jeremiah.
"Our ultimate goal is to provide a view of the internet through the product lens, making it easier and faster for product managers to make data-driven decisions. The same way Facebook connects you with people and Foursquare connects you with places, Indix can help connect you with products," said Parthasarathy.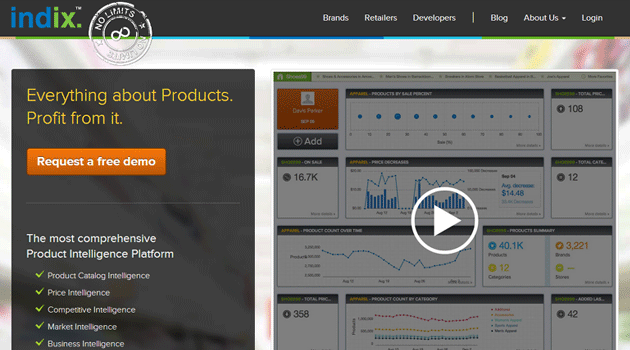 The company is working on Big data, analytics, visualisations and applications that help products and services companies manage and get the most out of their portfolio. It is also building a cloud-based product for business professionals around the world and will continue to be in stealth mode until later this year.
"Indix's product intelligence platform combines Big data analytics and visualisation technologies to provide insight into billions of products and services to brands, retailers, distribution channels and others" said Naren Gupta, cofounder of Nexus Venture Partners. The company had raised $4.5 million in series A funding from Nexus and Avalon Ventures in April this year.
Comment(s)