HT Media's digital business revenues up 34% to Rs 17.8Cr; segment loss at Rs 10.29Cr in Q2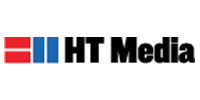 Media and publishing group HT Media recorded Rs 17.81 crore in revenues from the digital segment for the quarter ended September 30, 2013. This is a 34 per cent increase over the year-ago period and marginally up from Rs 17.5 crore in the previous quarter ended June 30, 2013.
The company's digital businesses include the job portal Shine.com (which competes with the likes of Naukri.com), HT Mobile and HTCampus.com, among others.
The digital business reported segment loss of Rs 10.29 crore for the quarter, up 3.2 per cent over the corresponding period last year. However, the digital business cut segment losses sharply from Rs 17 crore sequentially.
HT Media's job portal Shine.com, which was transferred from a subsidiary to the parent firm early this year, grew 78 per cent in revenues.
HT Media, which publishes the English daily Hindustan Times and the business daily Mint among other publications, as a whole reported total revenues of Rs 591.6 crore, up 11 per cent over the year-ago period. The firm completed sale of its 51 per cent stake in HT Burda Media Ltd, a JV with Burda Druck GmbH, which brought a one-time gain of Rs 38.2 crore. The firm also benefitted from sale of stake in Hindustan Media Ventures which added Rs 8.6 crore to its earnings. These two extraordinary items buoyed its consolidated net profit by 75 per cent to Rs 58.2 crore.
(Edited by Joby Puthuparampil Johnson)
Comment(s)