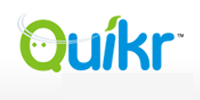 Mumbai-based Quikr India Pvt Ltd, the company that owns and operates classifieds site Quikr.com, is now drawing over half of its revenues from premium listing for users as well as lead generation for businesses. This marks a change in the revenue mix where earlier plain old ads were contributing over half of the business as of last year.
"Our non-ad revenue is well over 50 per cent now and continues to grow fast. It means that our paid listings and lead generation services are working well. We have a large number of small businesses as well as consumers who are subscribing to these premium services," Quikr co-founder and CEO Pranay Chulet told Techcircle.in.
In an interview with us a year ago, Chulet had said advertising was the biggest contributor of its revenues, and going forward it would be a balanced ratio from its three streams (ads, premium listings and lead generation from other channels) where the non-ad revenue would be half of the total.
Earlier, Quikr's key competitor in India Olx.in stopped its premium listings service, citing low levels of market maturity as the main reason. However, Quikr is still going strong as far as the premium listings are concerned. Claims Chulet, "In every country, market leaders are able to monetise their business far better than others and that's the way it is playing out in India as well."
Commenting on revenue growth, Chulet said, "I can't speak specifically about the figures, but we have grown five times in dollar terms this year so far. Our growth is accelerating and annual figures will be in double digit million dollars. We have barely scratched the surface and so double digital million is just a start."
With more than 30 million unique page views currently, Quikr is looking to cross the 100-million uniques mark in 2-3 years, according to Chulet. He added that almost 60 per cent of searches come from its mobile site. He also informed that it was just 15-20 per cent around the same time in 2012.
According to Chulet, many small companies in India have approached Quikr for being acquired. "Some companies have been contacting us in this regard, but we are not in a hurry. However, we will start looking to acquire when the right time arrives. It can either be a player operating in the similar space or a different domain altogether."
Chulet said Quikr will not immediately look at expanding to foreign countries since India has always been its priority. "We are already present in almost every city in the country and will be opening up offices in two more cities in the coming weeks. We believe that we have a unique scalable product that can work in foreign markets as well. However, we have not actively started looking at this option."
Founded in 2008 by Chulet and Jiby Thomas, Quickr was originally started as Kijiji India. To date, the firm has raised $50 million in five rounds of funding from Warburg Pincus, Norwest Venture Partners, Matrix Partners India, Nokia Growth Partners, Omidyar Network and eBay. Recently, its co-founder Jiby Thomas quit to launch a digital marketing company called Web Butter Jam.
(Edited by Joby Puthuparampil Johnson)
---