NASDAQ-listed Indian internet and IT services firm Sify Technologies Ltd reported a 22 per cent increase in revenues in the quarter ended September, 30, 2013 to Rs 250.5 crore, over the year-ago period. The firm also saw a sharp rise in EBITDA even as net profit growth was hurt by an exceptional item in the previous year. EBITDA for the quarter was Rs 42.4 crore, almost three times over the same quarter last year.
Net profit declined 81.5 per cent to Rs 11 crore compared with Rs 60.1 crore in the same period last year. However, earnings for Q2 FY13 were skewed by a one-time gain of Rs 65.8 crore from sale of an associate firm. Excluding this, the firm marked a turnaround against a loss of Rs 5.7 crore in the year-ago period.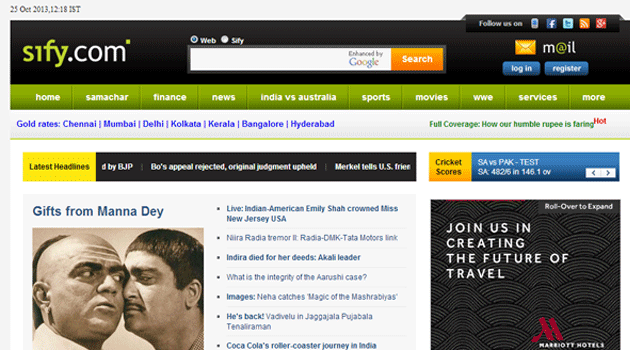 Sequentially, the firm saw a 4.8 per cent decline in revenues and a 10 per cent drop in EBITDA. CAPEX during the quarter was Rs 70 crore and cash balance at the end of the quarter was Rs 161.4 crore. "In spite of a challenging external environment across most sectors in India, we are continuing to see good traction for our solutions. While these tight fiscal conditions have resulted in delays in customer decisions, we are also seeing that clients are consolidating their services with established service providers," Sify Technologies chairman and managing director Raju Vegesna said in a statement.
Business highlights
Telecom services grew 35 per cent while data services unit grew 34 per cent over same quarter last year. Cloud and managed services unit grew 46 per cent.
Within applications services, talent management solutions registered an increase of 192 per cent. Portals grew 45 per cent and as per Comscore, Sify unique visitors grew 85 per cent.
Sify's technology integration services business grew 69 per cent.
(Edited by Joby Puthuparampil Johnson)
---