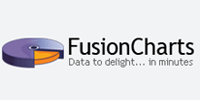 Kolkata-based Infosoft Global Pvt Ltd, the company that owns and operates data visualisation library FusionCharts, claims to have clocked under Rs 50 crore (under $10 million back then) revenues in the last fiscal (FY2012-13). According to founder and CEO Pallav Nadhani, FusionCharts currently has 21,000 customers, a large chunk of which are Fortune 500 companies.
Founded in 2002, FusionCharts is a data visualisation library (written in JavaScript) that helps web and mobile developers generate charts, gauges and maps used to power dashboards. The firm sells in 118 countries and the bulk of sales come from the US, followed by Europe and Asia. Its clientele include companies like Google, Microsoft, Intel, Infosys, IBM, Dell, HP and Citibank. FusionCharts claims the US government is also using its products.
FusionCharts charges a one-time or recurring licence fee for usage of its products. It essentially follows a tiered pricing strategy where it offers options for enterprises, SMBs, and single developers. The pricings start at $199 and can go up depending on various factors. The company has around 70 employees across its Bangalore and Kolkata offices.
Commenting on the opportunities for FusionCharts products in India, Nadhani said that cities including Bangalore have an active developer community and there is a lot of awareness about data visualisation already in the country, adding that the company is not moving as fast from being a software services provider to a software products maker. "For now, global markets are where majority demands for data visualisation are coming from."
A boot-strapped company to date, FusionCharts has been profitable from day one, claims Nadhani. He observed that the lines are blurring between exclusive data visualisation companies like FusionCharts, and others like Tableau Software (www.tableausoftware.com) and Qliktech (www.qlikview.com) which were in the broader business intelligence space traditionally but are now starting to beef up their visualisation capabilities.
In his view, a new open-source component is coming out almost every week, which is a major challenge for his company. The space is getting crowded with low quality, quickly hashed-out products that are piggybacking on each other. "We stand out from the crowd by how comprehensive our offering is," Nadhani explained.
FusionCharts has been one of a few self-funded companies (Zoho Inc. is another firm) from India that has made a mark in the domestic as well as global markets. Nadhani says FusionCharts has never sought VC funding in its over 10 years of existence. Although some VCs came forward to invest in the company, he does not see the firm raising institutional funding in the foreseeable future. He says acquisition offers have come the company's way, but he is waiting for a good parent to come and buy the firm.
(Edited by Joby Puthuparampil Johnson)
---