NTT Com acquires cloud networking provider Virtela for $520M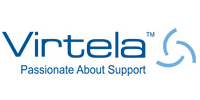 Japan-based NTT Communications Corporation (NTT Com), the ICT solutions and international communications business within NTT Corporation, has wholly acquired global managed and cloud network services company Virtela Technology Services Inc.. Both the companies' shareholders have entered into a definitive agreement under which NTT Com has acquired Virtela for a approximately $520 million (Rs 3,200 crore).
The acquisition expands NTT Com's global network services coverage from 160 to more than 190 countries/regions. Post acquisition, the respective strengths of Virtela and NTT Com will be unified through the integration of their respective operations, services and networks, and will then be introduced on a combined basis to serve customers from 2014.
Founded by Vab Goel, who is also general partner at Norwest Venture Partners (NVP), Virtela's services suite includes global managed network, security, mobility, application acceleration and IT infrastructure services. The services are delivered via its Virtualized Overlay Network and Virtela Enterprise Services Cloud (ESC) platform, which enables the transition of branch office networking and security services to the cloud.
Prior to Virtela, Goel was VP, internet engineering & emerging technologies at Qwest Communications. Apart from Virtela, he also sits on the boards of companies like Unisfair and Ravello Systems.
Headquartered in Denver (US), the company also has global support centres in Mumbai (India) and Philippines. The company's employee strength is 400 and it claims to serve more than 500 customers worldwide. Its lead investor is Promod Haque, senior managing partner, NVP.
"Virtela's virtualised network services model combined with NTT Com's brand and strength will create an advanced services portfolio that will enable enterprises to break free from the constraints of traditional network architectures and services," said Goel.
NTT Com provides consultancy, architecture, security and cloud services to optimise the information and communications technology (ICT) environments of enterprises. Its existing offerings include Arcstar Universal OneTM virtualised network services and customer-premise-to-data centre and cloud-to-cloud services. Post acquisition, the company will also upgrade its cloud-based network services with Virtela's network function virtualisation (NFV) technology to virtualise the functions of customers' network equipment, such as firewalls and WAN accelerators.
Combining Virtela's service/operational platforms and expertise with NTT Com's global ICT infrastructure and resources will also enable the company to deliver cloud networking services, asset-light branch office networking, a Tier-1 IP backbone and end-to-end cloud compute, storage and network services on a global scale.
(Edited by Joby Puthuparampil Johnson)
Comment(s)