One in 14 WhatsApp users in India; messenger claims to cross 25M monthly active users in the country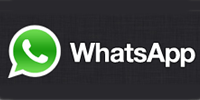 Instant messaging platform WhatsApp claims to have crossed 25 million monthly active users in India. This is up from around 20 million that was disclosed in August this year which means in the last three months it has added 5 million active users in the country.
Globally, it claims to have 350 million monthly active users, which means every one in 14 users on WhatsApp is from India.
Launched about four years ago, WhatsApp is one of the leading messaging services with more than 100 million downloads so far on Google Play Store alone. Though it is free on Android (it has not been successful to launch the paid version), it charges $1 a year on iOS. It has recently announced a free version for iOS as well.
Talking to CNBC TV18, Neeraj Arora, head-business development, WhatsApp, said the messenger is currently processing up to 18 billion messages per day across 100 countries on 750 mobile networks. Arora said the messaging app would steer clear from ads and endorsements like it has been doing so far. He hinted that a B2B play may be a possibility but nothing has been decided.
"We will see if it makes sense for us in the future when we have a bigger team versus bigger sales. We don't have a sales team today at WhatsApp," Arora said.
The market for instant messaging apps has been heating up lately with several international as well as local startups looking to carve a part of the pie. Japanese app Line which recently entered India or Chinese internet major Tencent's app WeChat which is already present and native app Hike (from Bharti Softbanks' stable) have been looking to get a piece of action.
However, none of these apps has been able to scale as much globally. Line and WeChat are popular in home turfs Japan and China, respectively.
(Edited by Joby Puthuparampil Johnson)
Comment(s)