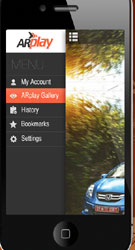 Gruner + Jahr's (the publishing division of European media conglomerate Bertelsmann AG) Indian arm Networkplay has launched ARplay, an augmented reality application. The app has been developed by Networkplay and distributed through Seventynine (a business unit of Networkplay).
ARplay is meant for Gruner + Jahr's brands to distribute multimedia content and build interaction with users. The app will be distributing ads, advertorials, links to web content and contests and enable social sharing among consumers.
Gruner + Jahr entered the Indian market in 2011, with its acquisition of the publishing house, MaXposure Media Group, followed by Networkplay last year. More recently, Networkplay acquired yoCAPTCHA which also in effect has become part of the Bertelsmann group.
"We have thought hard about where ARplay actually adds value and we are working to ensure that each augmentation brings something new to our customers. This app is just the beginning to our technological development showcase of how the future of magazine will look in the era of convergence," said Ampreet Singh, CEO, Networkplay.
Gruner + Jahr is one of the world's leading media groups and its Electronic Media Sales (EMS) division is a leader in the digital advertising space in Europe. With over 300 magazines and 150 websites in more than 30 countries, Gruner + Jahr is a market leader in many segments. In fiscal year 2010, Gruner + Jahr generated revenues of €2.55 billion and employed around 13,300 people worldwide. As much as 74.9 per cent of Gruner + Jahr is owned by Bertelsmann AG and 25.1 per cent by the Hamburg publishing family Jahr.
(Edited by Joby Puthuparampil Johnson)
---