Launching India Loyalty Conclave 2013 for top marketers, customer retention & engagement specialists; block your calendar today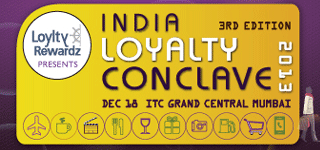 VCCircle is launching India Loyalty Conclave 2013 which will be conducted on December 18 at ITC Grand Central, Mumbai.
With the core motto to deliver real value to customers, generate loyalty and enhance effective customer engagement strategies, companies are eagerly adding customer driven innovative and differentiated loyalty programmes to promote their marketing campaigns.
To gain more insights on Indian loyalty marketing, Loyalty Rewardz presents a full-day summit to discuss and debate on the future & relevance of customer engagement in India; the right loyalty marketing for Indian customers; what India's marketers want in a loyalty programme; effects of coalition programmes and partnerships; innovation & technology in loyalty marketing; and leveraging advanced analytics in loyalty marketing; in addition to focused sessions on retail, clothing, FMCG, banking, travel, hospitality, QSR and consumer internet.
There will also be a special session called Loyalty Showcase where representatives of five emerging, exciting and innovative loyalty companies will make presentations on their business, product market opportunity and how they will disrupt existing ecosystem to create value. If your company fits the profile and would like present here, write to komal.shah@vccircle.com.
The summit will gather more than 150 top CMOs, CXOs, innovators, customer retention & engagement specialists from leading consumer brands and businesses, entrepreneurs, industry experts, customers from the existing ecosystem to discuss and debate on the future of loyalty industry in India. Click here for more details.
For sponsorship, write to: ayushi.misra@vccircle.com.
For suggesting agenda/nominating speakers, write to ben@vccircle.com.
For registrations, write to Kanika at register@vccircle.com or call 0120-4171111.
Comment(s)