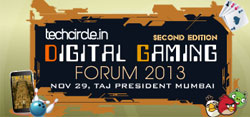 With 3 days to go for Techcircle Digital Gaming Forum 2013 on November 29, Mumbai, we at Techcircle are launching a listing of India's Top 10 Emerging Gaming Product/Service Companies in India. The list will be published on Techcircle and VCCircle website two days before the event.
Techcircle Digital Gaming Forum 2013, in its second edition, presented by Nazara Technologies, will identify what will create large and sustainable gaming businesses in India. The forum will bring together more than 150 CEOs representing top and emerging digital gaming companies, developers, entrepreneurs, and venture capital and angel investors betting on this space.
The top 10 emerging digital gaming companies being listed will be shortlisted based on big idea, innovation, UI, market opportunity, consumer traction and engagement. If you would like to apply or recommend a company, click here to fill the application form. Last date for sending your entries is November 20 (Wednesday).
The full day conference will discuss and debate on: building large, sustainable and scalable gaming businesses in India; how companies maximise revenue potential across all platforms; how Indian brands engage with consumers through gaming; opportunities in Indian mobile gaming; how companies overcome the challenges to monetising mobile gaming; raising venture capital and angel funding for gaming companies; gaming for global markets from India; as well as insights on discovery, business and economics of gaming apps. Click here for more details.
Speakers
Alok Kejriwal - CEO & Co-Founder, Games2win
Anuj Tandon - Co-Founder & COO, Rolocule Games
Arun Menon - Founder & CEO, AppsDaily Solutions Pvt Ltd
Bhavin Pandya - Founder & COO, Rummycircle
Deepak Gullapalli - Founder & CEO, Ace2Three
Deepak Taneja - Head Ecommerce and Digital Marketing, Nokia India
M. G. Dayanidhi - MD - Asia Pacific, Digital Chocolate
Manish Agarwal - CEO, Reliance Entertainment
Manoj Gupta - Head VAS, Micromax Informatics Ltd
Manish Malik - VP - Gaming, Hungama Digital Media
Mohit Sureka - Founder & CEO, Spiel Studios Pvt Ltd
Nitish Mittersain - CEO & Founder, Nazara Group
Prashant Ojha - Head - Sales & Marketing, India, Srilanka, Bangladesh, Pakistan, EA
Rahul Chandra - MD, Helion Advisors Pvt. Ltd
Rohith Bhat - MD & CEO, Robosoft Technologies
Samir Bangara - Co-founder & MD, Qyuki.com
Sasha Mirchandani - Managing Partner, KAE Capital
Shailesh Lakhani - Principal, Sequoia Capital
Vikram Vaidyanathan - Director, Matrix Partners
Virat Singh Khutal - Co-Founder & CEO, Twist Mobile
Vishal Gondal - Founder & Ex-CEO, Indiagames.com
.. and many more are joining.
At the forum, we also have a special Techcircle Pavillion, where companies can use kiosks to display their product and innovation to the participating entrepreneurs, game developers, investors and consultants. Each pavilion kiosk is priced at Rs 15,000 plus taxes. Contact ayushi.misra@vccircle.com for more details.
You can follow the updates on the event on twitter (hashtag: ##TDGF13), LinkedIn and Facebook.
For sponsorship, write to: ayushi.misra@vccircle.com.
For suggesting agenda/nominating speakers, write to ben@vccircle.com.
For registrations, write to Kanika at register@vccircle.com or call 0120-4171111.
---