The Indian Railway Catering and Tourism Corporation (IRCTC), a subsidiary of the Indian Railways that handles the catering, tourism and online ticketing operations, recently launched its own eWallet for the IRCTC site. As part of the scheme, users can deposit money in advance with IRCTC, which can then be used for making payments (along with other payment options available) on the site at the time of booking tickets.
Here is all the information you will need to know about the eWallet.
Registering for the eWallet
After logging in to the IRCTC website, users need to select the 'eWALLET registration' option that is displayed under the 'Plan my travel' section. Users will need to fill in and verify their PAN card number, and deposit a one time non-refundable registration fee of Rs 250. Post that, you can credit the IRCTC eWallet account with a minimum deposit. Users can deposit a minimum amount of Rs 100 and maintain maximum amount of Rs 5,000 in their accounts. Also, deposits can be made in multiple of Rs 100 only, and the deposit amount is non-refundable.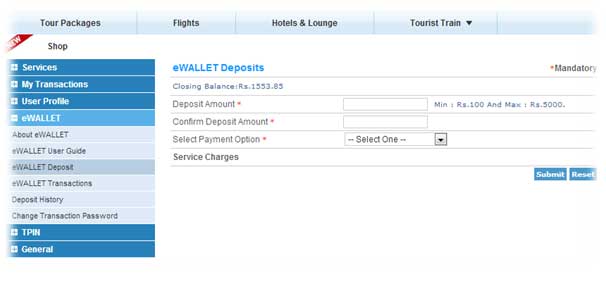 Booking through eWallet
After planning the journey, once a user reaches the payment gateway page, the eWallet will also be displayed as an additional payment option. After selecting the same, users will need to enter their transaction password (created during the registration process), wherein they will be able to see the available eWallet account balance. The amount will then be debited from the eWallet account and users will be redirected to the confirmation page.
Booking via eWallet will only be allowed when the ticket amount is less than the eWallet balance amount, and for every eWallet transaction, an additional transaction charge of Rs 5 will also be collected by IRCTC. An electronic ticket is provided as usual on successful train ticket booking.

Pros n cons of eWallet
Pros
Secured access: Offers secure booking through eWallet by providing transaction password / PIN number that is required for every booking done through the eWallet.
Complete history: Users are provided with a separate link that offers eWallet deposit, transaction and payment history.
Quick refunds: In case of any train ticket cancellation, the due refund will be credited to the eWallet account the very next day.
In addition, eliminating payment approval process during ticket booking saves the booking time. Dependency on a specific bank is reduced and the eWallet also provides benefit of saving 'payment gateway' charges per ticket.
Cons
A maximum amount of only Rs 5,000 can be maintained at a time, which could mean regular deposits for frequent travellers.
All deposits made are non-refundable.
The eWallet facility is not available between 8 am to 12 pm.
---