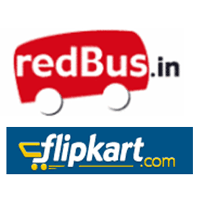 Its official, Naspers paid $100 million in cash to buy an effective 80 per cent stake in Pilani Soft Labs Pvt Ltd, which runs Indian bus ticketing venture redBus in June this year, valuing the venture at $125 million.
Previously the South African digital media conglomerate had not disclosed  the deal value though separate media reports had pegged it anywhere between $100-140 million.
Naspers' fair valuation of the stake in redBus was based on $42 million for 'goodwill', $40 million for 'intangible assets', $12 million for deferred tax liability besides cash of $2.9 million, trade and receivables of $2.7 million and property & equipment of $0.4 million, according to Naspers.
redBus deal would have meant a multi-bagger exit for its VC investors Seedfund, Inventus Capital and Helion Venture Partners.
Flipkart
Naspers which originally invested a little over $100 million in August 2012 to pick 10 per cent stake in Flipkart's holding firm Flipkart Pvt Ltd, valuing the firm at $1 billion, also participated in the latest round worth $360 million.
The digital media giant put in $140 million afresh in Flipkart and its current holding now stands at 16.7 per cent. Given the stake dilution with the entry of new investors, its previous holding had shrunk to 8.1 per cent. The latest deal, therefore, values Flipkart at $1.6 billion, post money. Previous media reports had suggested that the country's top consumer ecommerce firm was valued around $1.5-1.6 billion.
Last month, Flipkart said it has raised an additional $160 million (Rs 990 crore) in the fifth round of funding which started in July this year, from new investors, including Belgium-based Sofina, US-based Morgan Stanley Investment Management, Dragoneer Investment Group and Vulcan Capital (founded by Microsoft co-founder Paul Allen), along with participation from existing investor Tiger Global.
Flipkart Pvt Ltd, a Singapore-based holding firm, had previously raised $200 million from existing investors Naspers Group, Accel Partners, ICONIQ Capital and Tiger Global in the first tranche of the group's fifth round of external funding. The capital raised from the fifth round touched $360 million, which is the single-largest amount to be raised by any Indian internet business ever. It had not commented on the valuation.
MIH India
The firm also disclosed that in June 2013 an option held by Chinese internet major and Naspers joint venture partner in India Tencent to subscribe new shares in MIH India Global Internet Ltd (MIH India), expired. MIH India operates ecommerce platforms under the ibibo brand. Naspers exercised control over MIH India from the date that the option expired and the put in R321 million or around $32 million more. For more on MIH India restructuring click here.
(Edited by Joby Puthuparampil Johnson)
---