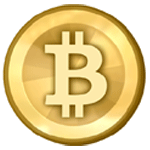 The price of the digital currency bitcoin soared above $1,000 for the first time on Wednesday, extending a surge this month after a U.S. Senate hearing on virtual currencies.
Bitcoin hit a high of $1,044 on Tokyo-based exchange Mt. Gox, the best-known operator of a bitcoin digital marketplace, compared with just below $900 the previous day.
At the beginning of the month, bitcoin, the prominent digital currency that is not backed by a government or central bank, traded at around $215.
Bitcoin advocates say last week's Senate hearing gave more legitimacy to the digital currency, which has been gaining acceptance by the general public and investment community but has yet to become an accepted form of payment on the websites of major retailers such as Amazon.com.
Bitcoin is valued by many users for its anonymity. But government officials expressed concerns that many virtual currency services do not have the proper controls in place to prevent illegal activities such as money laundering.
---