Mobile gaming market to cross $40B by 2016; freemium games the way forward: Nazara's CEO Nitish Mittersain
At the recently concluded Techcircle Digital Gaming Forum 2013 (being held in Mumbai on Friday), Nitish Mittersain, founder and CEO, Nazara Group, made a presentation on the topic 'Mobile Gaming-The Changing Landscape'. During the course of the presentation, he talked about the changing scenario of mobile gaming—both globally and in India, the factors that are accelerating its growth, and which business model would work best going forward.
Here are the key insights from the presentation.
According to Mittersain, the global mobile gaming (or mGaming) market is set to cross $40 billion in size by 2016, and nearly 1 billion people (that's one seventh of the world's population) play games on their mobile phones today. In addition, tablet gaming is also expected to grow by 400 per cent over the next three years.
In terms of revenues, Asia Pacific alone accounts for almost half (48 per cent) of the total global revenues from mGaming, followed by North America and Western Europe. Middle East and Africa generated $260 million in revenues and currently have 100 million players.
Drivers for mGaming
It's no surprise that the rising number of smartphones is one of the primary reasons for the growth of mGaming. Add to this the availability of strong platforms (like Android, iOS, etc.) and high quality content, and you have an ever-increasing mGaming market.
In addition to standalone mobile games, instant messaging apps are also emerging as game platforms. Also, while Japan has been the early adopter of social gaming on smartphones, it is also turning into a big hit in western markets.
Freemium all the way
Freemium (comes from the combination of the words 'free' and 'premium') is basically a pricing strategy by which a game is provided free of charge, but money is charged for advanced features, functionality or virtual goods. The model is working since users can experience the game before deciding to make purchase, which in turn acts as a major volume generator in terms of players.
Revenue can be generated via ad revenues, in app purchases, or providing a free demo and charging for the full game. Of the three, the most popular revenue model is app purchases, as it contributes about 70-80 per cent of the entire smartphone game revenues.
Gaming in India: global desi
According to Mittersain, there is a huge potential for localised content that is still largely untapped as of now. This is evident from the success of games like Teen Patti (Octro Inc.), Krrish 3, and Chhota Bheem & the Throne of Bali, all of which have crossed over a million downloads. He said currently, Indian users are spending approximately Rs 5 crore on a monthly basis on App stores like Google Play, iTunes App Store, among others.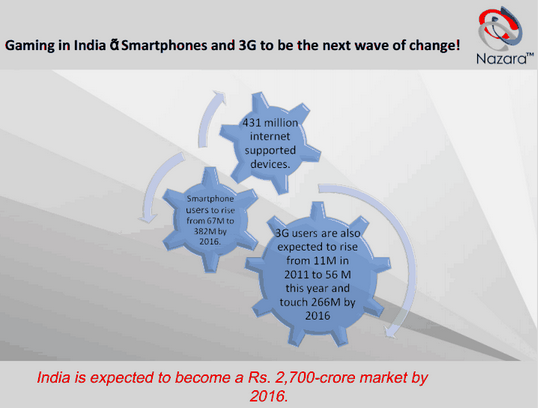 Earlier this week, Mumbai-based Nazara Technologies, a mobile games developer and publisher, had launched a seed stage fund focused on the gaming space. The fund will make investments in early stage game developers, as well as other companies working in the gaming space, with a bias towards mobile and Indian developers working on both global and India specific themes.
The fund will invest between Rs 25 and Rs 50 lakh in exchange for a stake, which will be decided depending on the startup. It is looking to make six-eight investments in 2014, and the same number in the following year. The initial fund size is Rs 5 crore, with an additional Rs 5 crore to be made available once the first fund is exhausted. The company itself is providing the entire amount for the fund.
(Edited by Joby Puthuparampil Johnson)
Comment(s)