Japanese IM app LINE witnesses exponential revenue growth, aims to cross 500M users in 2014
Japanese firm LINE Corporation, which owns and operates the free call and messaging app LINE has witnessed exponential quarter-on-quarter revenue growth since 2012. While the company saw revenues of under $10 million in June 2012, this number increased over tenfold to over $110 million in the same quarter this year. This number further increased to slightly over $160 million in Q3, 2013, according to a chart (See below) from freelance analyst and consultant Benedict Evans.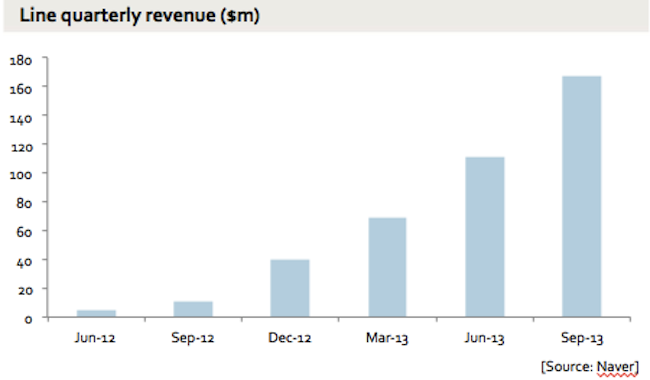 To put things in context, LINE's revenue number lies in the range of what micro-blogging site Twitter did in the same quarter ($168.6 million to be exact).
Last month, the company had crossed the 300 million users mark globally, out of which a third (100 million users) were added in last four months alone. The company is now looking to cross the 500 million users mark next year.The India connection
Launched in June 2011, LINE came to India in July this year. As of Oct 2013, the company had 10 million users in India, and was planning to take this number to over 20 million users by the end of this month.
"India has overtaken Japan to become the country with the third-largest number of smartphone users (according to a Strategy Analytics report). It is only natural to anticipate further growth of the smartphone market in India, and we believe that it will become a vital territory as LINE expands into the global marketplace," Akira Morikawa, CEO, LINE Corporation, had stated at the time.
To strengthen its foothold in India, the company has also launched a cooperative marketing campaign with famous celebrity Katrina Kaif as its brand ambassador. Also, Sony Music Entertainment is opening official accounts with Line, which will cater to music fans across genres, including Bollywood, Tamil, Telugu, Punjabi and international music.
In India, LINE faces competition from a number of messaging apps like Viber, Nimbuzz, WeChat, BBM, Hike, and the big daddy WhatsApp. In comparison to the others, LINE offers free one-to-one and group messaging, as well as free domestic and international voice and video calls. It also includes a wide array of social elements such as fun and expressive stickers (the 'Sticker Shop' features over 5,000 original stickers and emoticons), and a number of LINE family apps- including LINE games and LINE camera.
Early this month, WhatsApp had crossed 30 million monthly active users in India, which is three times the number of LINE users. The company also entered into a partnership with Tata Docomo, wherein the telecom operator will offer unlimited WhatsApp usage to its subscribers at Rs 15 and Rs 30 for 15 and 30 days respectively.
Comment(s)