WhatsApp crosses 400M users active users mark, over 30M from India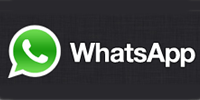 WhatsApp, the cross-platform instant messaging app claims to have crossed the 400 million active users mark. Out of this, a fourth or 100 million users were added in the last four months alone, while 7.5 per cent (30 million) come from India alone. Note that this isn't a count of people who just registered for the WhatsApp – it's the number of people who are actively using the service on a monthly basis.
Jan Koum, the co-founder and CEO of WhatsApp, also took a subtle pot shot at competitors, mentioning that WhatsApp does not rely on 'annoying' banner ads and distracting 'features' like other messaging apps. "We bet that if our team of engineers could make messaging fast, simple, and personal, we could charge people directly for the service without having to rely on annoying banner ads, game promotions, or all those other distracting 'features' that come with many messaging apps," he wrote in an official company blog post.
According to the company, it has just 50 employees- most of them engineers- and has arrived at this point without spending a dollar on targeted ads or big marketing campaigns.
Earlier this month, the company had crossed the 30 million monthly active users mark in India. It also entered into a partnership with Tata Docomo, wherein the telco will offer unlimited WhatsApp usage to its subscribers at Rs 15 and Rs 30 for 15 and 30 days respectively. This was WhatsApp's second such deal with a telecom operator in the country. The first one was with Reliance (in October 2012), where the telecom major was offering unlimited WhatsApp usage for a month for Rs 16 to its GSM subscribers.
In comparison, as of Oct 2013, free call and messaging app LINE had 10 million users in India, and was planning to take this number to over 20 million users by the end of this month. Launched in June 2011, LINE came to India in July this year. Last month, the company had crossed 300 million users globally.
Interestingly, in this case as well, 100 million users were added in last four months alone- indicating at the rapid adoption of instant messaging apps across the globe. Also note that while the 400 million number provided by WhatsApp includes active monthly users, LINE has only disclosed the total number of registered users, which means that the actual number of people using the service actively could be much less.
Comment(s)