Aircel partners with ZTE for 4G network deployment, to begin with Chennai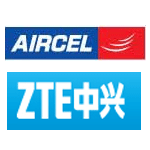 Indian telecom service provider Aircel Ltd has entered into an agreement with ZTE Corporation, a publicly-listed global provider of telecommunications equipment, network solutions and mobile devices, to deploy Aircel's 4G LTE network in the country. According to the company, the deployment will help Aircel boost its enterprise and retail business.
In the first stage, the LTE deployment will be initiated in Chennai and the rest of Tamil Nadu (RoTN), as well as a few other business critical circles. The announcement is in line with ZTE's completion of the migration of Aircel's data services to its 4G LTE evolved packet core (EPC) for the above mentioned circles. In the initial phase of the rollout, ZTE aims to offer customers in the country with data speed of 65 Mbps.
"We believe that data is the growth engine of the future and a cutting edge technology such as 4G LTE has the ability to empower consumers like never before," said Anupam Vasudev, CMO, Aircel. "The huge demand for internet enabled devices, such as smartphones and tablets among the largely young population, along with an increase in consumption of data on internet and rising demand for content are some of the factors fuelling the exponential growth in data," Vasudev said.

ZTE has been working with Aircel since 2008, when it supported the latter's 2G-3G rollout in three north zone circles. It also played a key role in the launch of the Next Generation Networks (NGN) for Pan India. The EPC deployment in the south zones further strengthens the partnership and enables Aircel to provide high capacity and capability solutions with access agnostic functions for 2G, 3G and 4G LTE services.
"We are happy to partner with Aircel to rollout its 4G LTE network in India. We are fully committed to planning, designing, supplying and deploying a state-of-the-art LTE ecosystem which will help Aircel offer unmatched experience to their customers. This alliance has allowed ZTE to further cement our position as the partner of choice for telecom operators in the country in developing and maintaining their LTE ecosystem," said Xu Dejun, CEO, ZTE India. "This partnership also fits into our long-term vision of developing a sustainable LTE network in India," he added.
As of now, telecom operator Bharti Airtel is already offering 4G LTE services in the country. Airtel is offering the same in only three cities as of now, which include Kolkata, Bengaluru and Pune.

Earlier this year, Aircel had launched (https://www.techcircle.in/2013/09/19/aircel-launches-e-book-store-bookmate-for-its-subscribers-whats-on-offer/) an e-book store called 'Aircel BookMate' for its subscribers. BookMate is a one-stop-shop for avid readers and book lovers to browse, store, download and read books, magazines and comics, on their smartphones, tablets as well as PCs. The e-book store currently offers a catalogue of paid fiction and non-fiction novels, magazines, comics, biographies, children's stories and reference books, as well as a range of free titles.
(Edited by Joby Puthuparampil Johnson)
---