Three predictions for SaaS as a business in 2014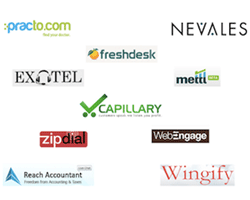 Indian Software as a service (SaaS) space has been seeing a lot of action over the past couple of years, with many companies operating in this segment gaining traction and also attracting venture capital investors.
Some of the leading names include Freshdesk, a customer support platform for enterprises; Practo, an online platform for doctors' appointment; Knowlarity, a cloud telephony platform and Capillary Technologies, a cloud-based CRM startup.
Most companies have already received multiple rounds of funding and gone global to bag large enterprise clients overseas. SaaS players hope that they can further leverage the overseas markets going forward, while at the same time serving the domestic clients, with their low-cost products/platforms.

Techcircle.in talked to a few industry experts to see what is in store for the year 2014.
We will see lot of 'made-in-India and sold-to-world' products in 2014: Avlesh Singh, co-founder, WebEngage
We can expect a lot of new and innovative products emerging this year. Because of the huge interest in this category, it will continue to attract talent and VC money. While most companies try to build a product for the world, very few are able to sell it globally at scale. So, we are going to see 'made-in-India and sold-to-world' products in the current year. I also feel that SaaS for Indian SMBs is a great market opportunity and entrepreneurs should tap into opportunities there.

Moreover, keeping the costs minimum will give Indian SaaS companies a huge leverage to competitively price their products. So far, that has been the key differentiator for most companies. However, distribution will continue to be a challenge for most companies and those who would innovate on that will be the ones that will succeed.
The next big thing revolves around APIs: Mukund Mohan, an angel investor and director at Microsoft Ventures
The next big thing in the SaaS space is going to be around APIs (Application Programming Interface). I feel that SaaS will transform from just a standalone usage app to one that is being integrated into another workflow or app that customers are already using.

Over the past 10 years, the focus of enterprise applications has gone from a suite of tools that solves a business process to a point solution that solves customers' pain point. And thus the proliferation of SaaS applications has resulted in emergence of many niche solutions, which enterprises are unable to manage cohesively. The new generation of SaaS companies realise this problem and are making the product clean and simple to integrate APIs which not only allows the app to solve a problem but also integrate with the rest of the existing apps used for data consistency, reporting and analytics etc.
Enterprise software and platform-based services will collide: Alok Mittal, managing director, Canaan Partners
The big development on SaaS side should be the development of integrated product/service offerings. From the enterprise software side, there has been movement to SaaS which has migrated down to SMB customers. On the services side, there has been development of platform-based services. I think these two will collide with each other in the near future.

---