Findmystay.com, a reverse bidding online travel agent (OTA) that enables customers to book hotel rooms at the price of their choice, claims to have partnered with 10,000 hotels across India. The platform, which is owned and operated by Delhi-based Find My Stay Pvt Ltd, is now looking to expand to Southeast Asia, Singapore and the Middle East in the coming months.
Findmystay was launched a couple of months ago by Rohit Khetrapal and Simran Sial. An alumnus of UK-based Cardiff University, Khetrapal is currently the owner of Span Communications and the director of Onads Communications. His partner Sial holds a BA degree from St. Stephen's College (Delhi) and is running a chain of budget accommodations in Delhi-NCR for corporate clients.
How it works
Users needs to enter details of their itinerary, including the location and the check-in/check-out dates. A 'Bid Now' button has been provided, clicking which takes them to another page where they can choose the 'star category' for the hotel they wish to book. Post that users can enter the price range, along with their personal details. Once the bid has been accepted, Findmystay will send them the details of the hotels and the prices in a few minutes.
"Instead of settling with a discount that a hotel or OTA has to offer, here the customer decides the pricing. Rather than posting a price, the partner hotels wait for potential guests to give their best offer for a given location, category of hotel and duration. The hotels then choose to either accept or reject the bid. Hotels that have accepted the customer's offer are shown to the customer to review and book," explained Khetrapal.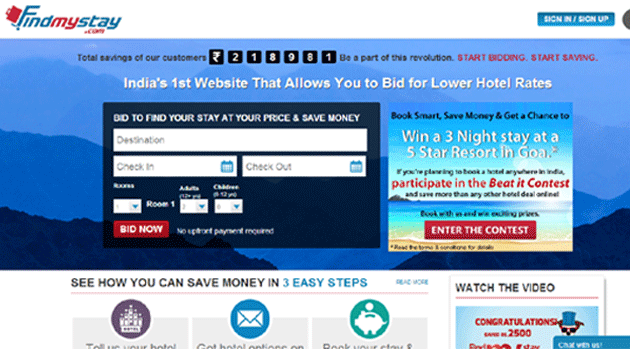 Findmystay claims to have been seeing good traction since starting in October 2013. "So far, around 600-700 bookings have been done through our platform," Khetrapal said.
Opportunities and challenges
According to the co-founder, the travel and tourism industry's contribution to the capital investment in India is projected to grow at 6.5 per cent per annum during 2013-2023, which is above the global average of 5 per cent. The total market size of the Indian tourism and hospitality sector is expected to touch $418.9 billion by 2022. These figures speak volumes about the way the market will perform in the coming years and its potential in the future, explained Khetrapal.

"The key challenge is that it's a cluttered space with a lot of players; hence getting attention is not that easy. Another challenge is that people still have some phobia when it comes to online transactions. Being a new player, it will take some time to build this confidence. We are also facing huge competition from leading OTAs such as MakeMyTrip, Yatra, goibibo, Cleartrip and Expedia, despite the fact that we have a niche concept in place," he said.
A 15-member team, the company is also looking to expand domestically. A self-funded firm, Findmystay is not actively looking for investment. "Our key focus is to improve the platform further in order to attract more customers and partners. However, we are open to investments, as historically equity-backed businesses grow faster and bring in additional vision and experience into the business," he said.
(Edited by Joby Puthuparampil Johnson)
---