DB Corp's digital business saw revenues climb 63%; loss down two-thirds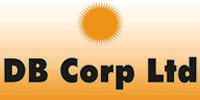 DB Corp Ltd, publisher of the Hindi daily Dainik Bhaskar among other media publications, reported a 63 per cent jump in revenue from its internet unit and cut losses from the division sharply last quarter.
Revenues from the segment rose to Rs 5.2 crore for the quarter ended December 31, 2013, over the year-ago period and segment losses were down to Rs 0.52 crore against a loss of Rs 1.888 crore in the same period a year ago.
According to the company, Dainik Bhaskar Digital Group registered 13 million unique visitors and 395 million page views in the quarter.
While Dainikbhaskar.com registered 6.7 million unique visitors and 240 million page views for the quarter; Divyabhaskar.com registered 2.2 million unique views and 115 million page views during the same period. Dailybhaskar.com registered a unique visitor figure of 4 million for the first time, of which 57 per cent viewers were women, making it the number one site in terms of female viewership, according to the company.
The media firm overall reported 19 per cent year-on-year increase in revenues to Rs 525.4 crore in Q3 FY14, up from Rs 442.9 crore in the same quarter the previous year. This implies internet business has marginally improved its contribution to the overall pie, though it still stands at just 1 per cent of the total. DB Corp's consolidated net profit rose around 34 per cent to Rs 94.5 crore in the same period. The company currently publishes eight newspapers, 66 newspaper editions and 199 sub-editions in four languages (Hindi, Gujarati, Marathi and English) across 13 states in India, with a combined average daily readership of 19.8 million in the country. In July 2013, the company had announced that it was restructuring its digital business by integrating the internet and mobile business with itself while turning its existing digital arm into an events company. At the time, the digital business was housed under I Media Corp Ltd (IMCL), a subsidiary. According to the company, the restructuring process is yet to be completed as the company is still finishing the requisite formalities.
(Edited by Joby Puthuparampil Johnson)
Comment(s)