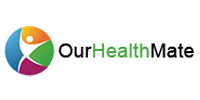 India and Singapore-based online healthcare services provider OurHealthMate, has raised $440,000 (Rs 2.7 crore) in seed funding led by Bimal Shah, former CFO of Nomad Digital, a global provider of wireless solutions to the transportation sector.
Others who participated include Benjamin Tsai, SVP and senior portfolio manager, alternatives at AllianceBernstein, a US-based investment management firm; Ben Ball, a high frequency trader and one of the first investors to back JFDI.Asia; and other unnamed angel investors.
The capital will be used for expanding the product in more cities in the Asia region, as well as for increasing the current team size from 6 to 16.
The startup was founded in 2013 by the duo of Abhinav Krishna (CEO) and Akash Kumar (director). Krishna has worked with several startups in Singapore and California, as well as companies like CitiBank and Merrill Lynch, prior to starting OurHealthMate (OHM).
Kumar has a PhD in Embedded Systems from the Technical University of Eindhoven, Netherlands, and is also currently an assistant professor at the National University of Singapore. He had also earlier worked at companies like Merrill Lynch and Philips.
Started as MyFitnessWallet, the startup was also a part of the JFDI Asia accelerator program last year. Before joining JFDI it also made it to Startup Chile, an accelerator supported by the Chilean government. The startup also has Singapore-based LEO TECH Services Pte Ltd- a specialist R&D studio- as its technology partner and investor. At OHM, Leo Tech is responsible for the complete backend technology.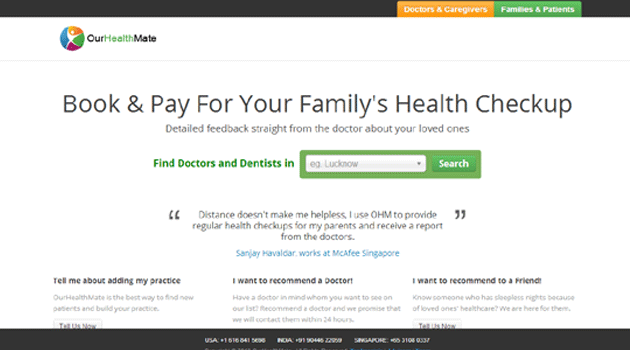 "We first met Krishna at the start of the JFDI.Asia program and it was immediately clear that he and his business were very strong. I brought LEO TECH, a software development house, in as a partner early on and we built a close working relationship. He and his team delivered on every single promise they made to us, creating the confidence for both LEO TECH and me personally to increase our commitment to the company's future," said Shah.
OHM is a platform for both Non-resident Indians (NRIs) and medical practitioners. NRIs can use it to search (from a network of clinics), book and pay for health checkups of their family members back home. After a family member has consulted the doctor, they can also share progress and results with their family through the company's secure patient portal.
Hospitals and clinics on the other hand can use OHM to manage interactions with their patients on the cloud. For the same, the company offers an electronic medical record (EMR) system. The integrated platform reminds patients about their coming appointments, as well as stores and updates patients' information, which is securely accessible online 24/7.
As of now, the company claims to have over 2,000 doctors and 700 medical centres listed from over 50 cities in India. In addition, its EMR system is already being used by 46 medical centres, out of which 12 are paid customers.
---